Motorised workshop presses
The Profi Press motorised workshop press is extremely robust and its quality is very high!
Our hydraulic workshop press is eminently suitable for specialist machining and metal forming work. To straighten and press in and out bearings for example. That is why a Profi Press workshop press is a must-have for engineering workshops, repair firms and technical training institutions. We produce this motorised H-frame press by using advanced CNC machines and robots. The casing of this hydraulic press is very stable and its hydraulic system is extremely precise, whether operated electrically with the joystick or manually with the hand pump.
Features of the Profi Press workshop presses
Each Profi Press workshop press is equipped with a movable cylinder (except for the M/H-2 models), an integrated manometer and a pressure regulator. It also has two speeds (a fast approach speed and a slower working speed), a joystick and a hand pump for precision pressing. Furthermore, the height of the heavy work table is easy to adjust; effortlessly by using the motor of this motorised hydraulic press. All our Profi Press models comply with the strictest regulatory requirements, meeting the European CE standards. We deliver them straight from our stock.
These motorised workshop presses can be equipped with various optional accessories. For example a set of V-blocks, a foot pedal or a mandrel set. In addition, it is possible to adjust some dimensions of the standard electric workshop presses. If you would like to work with a tailor-made hydraulic press, ask us for the possibilities!
Large assortment
The Profi Press assortment contains several different hydraulic workshop presses: our motorised workshop press is available in tonnages up to 300 ton. Our Profi Press assortment contains manual workshop presses as well: you can find these models here.


Please scroll down to find out more about the features, technical specifications and dimensions of all the different models.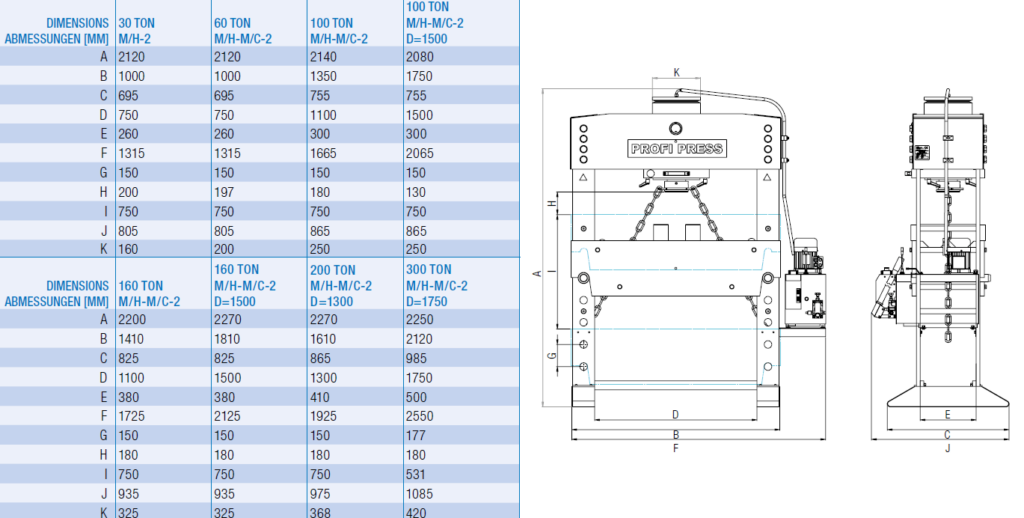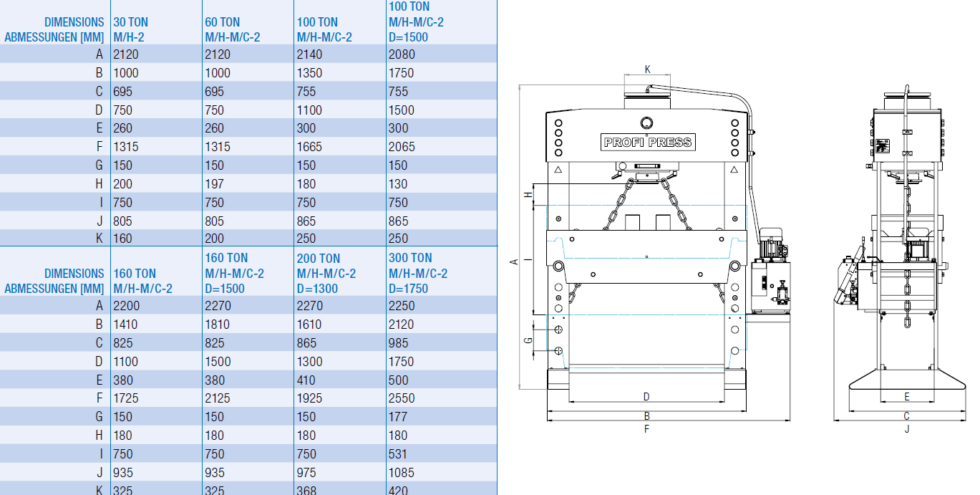 Videos of our motorised workshop presses can be found on our RHTC YouTube-channel.
Let's Get Started
' PRESS TO IMPRESS '