The manual workshop press from Profi Press is made in Europe. Available in three different models.
The H-frame of this hydraulic workshop press is made out of quality steel. This garage press is excellent for general assembly and straightening tasks. A must-have for every workshop / garage.
We have three different models in our program: the 15 ton HF-2, the 30 ton HF-2 and the 50 ton HF-2. The 15 and 30 ton HF-2 have a fixed cylinder, but the 50 ton HF-2 has a movable cylinder (left – right). The height of the working table is easy to adjust, so you can work with many different material / product sizes. The manually operated workshop presses from Profi Press are all standard equipped with a hand pump with double operation (it can be used as a foot pump as well). Furthermore, it has a pressure manometer for reading out the applied pressure, a chrome piston (with automatic piston return). We also deliver a set of V-blocks with these presses.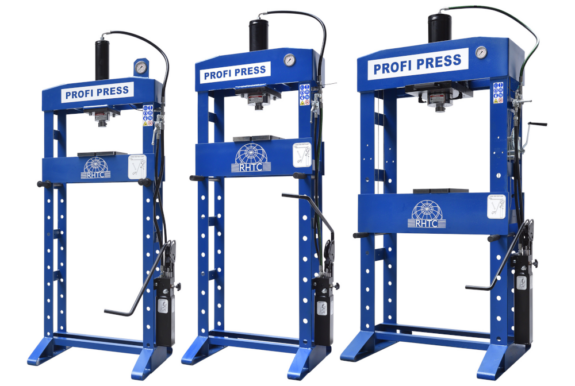 All our workshop presses can be delivered straight from our stock in the Netherlands. So, if you need one fast, we deliver them within a week within Europe! 
At our You-Tube channel we show a video of the Profi Press manual workshop press. Let us know what you think!
Profi Press workshop presses
Our Profi Press assortment contains motorised workshop presses as well. So, if you are looking for an electro-hydraulic workshop press: you can find these models here on our website. If you need some advice on which hydraulic press you would need for your tasks, please do not hesitate to contact us! We are always happy to help and to answer your questions.
Let's Get Started
' PRESS TO IMPRESS '