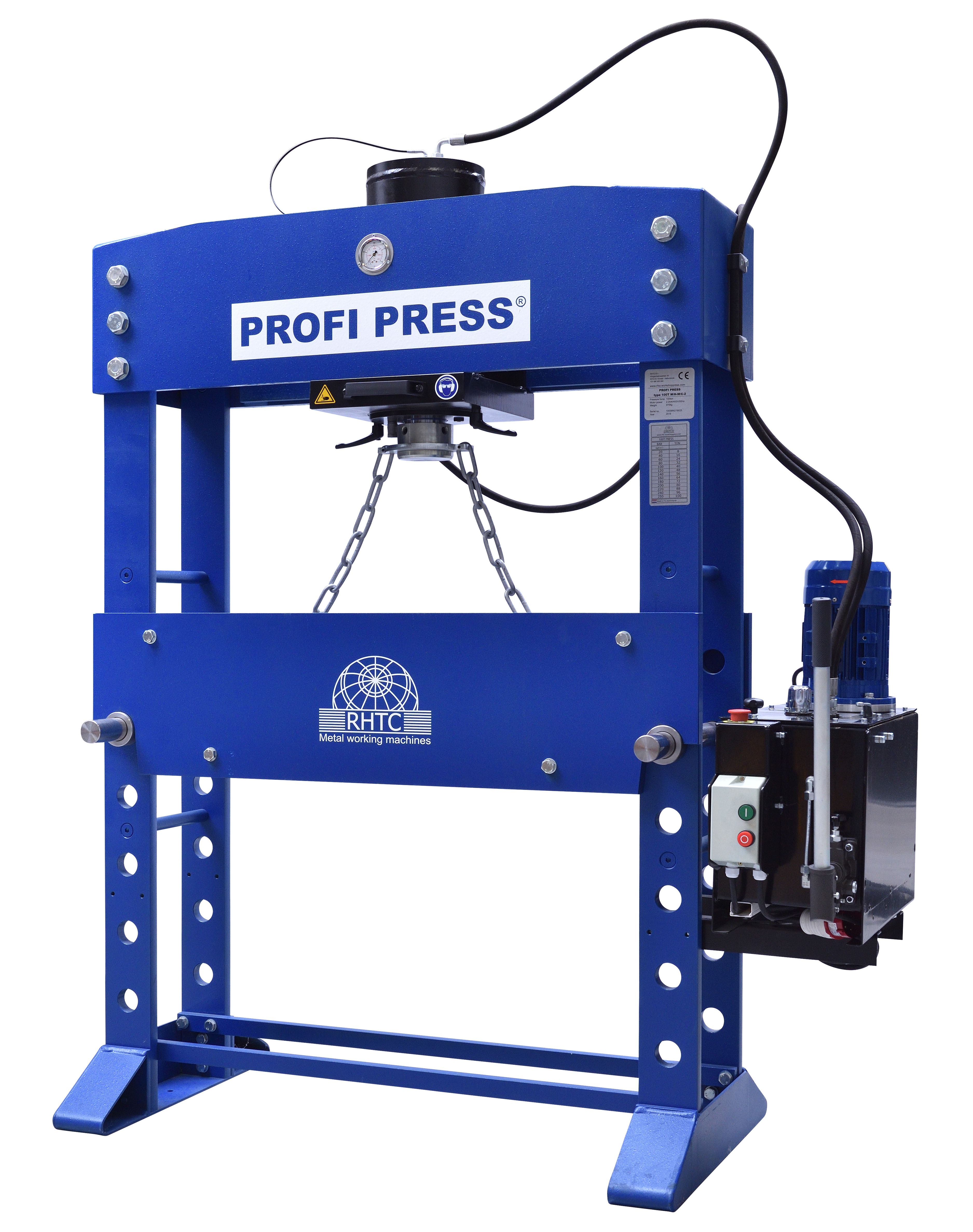 The 100 ton workshop press is our all-time best-seller!
Our 100 ton hydraulic press is equipped with a movable cylinder (left-right) and an in-height adjustable working table. Furthermore, it has a pressure regulation, 2 speeds, a joystick and a hand pump for precision pressing.
The Profi Press motorised workshop presses are exclusively made in the Netherlands and directly available from our stock.
Technical specifications
Pressure force [kN]: 981
Maximum pressure [bar]: 258
Piston stroke [mm]: 380
Oil delivery [ltr/min]: 5.64/17.2
Oil capacity [dm³]: 46
Working speed [mm/sec]: 2.47
Approaching speed [mm/sec]: 7.54
Return speed [mm/sec]: 9.06
Motor power [kW]: 2.2
Voltage [V]: 400/3
Frequency [Hz]: 50/60
Revolutions per minute [rpm]: 3000
Insulation protection [IP]: 54
Working width [mm]: 1100
Weight [kg]: 970
Diameters
Inside diameter of cylinder [mm]: 220
Diameter of piston rod [mm]: 90
Diameter of piston head [mm]: 120
Features
Movable cylinder (left-right)
Integrated pressure manometer
Pressure regulation
Hydraulic unit with two speeds
In height adjustable working table
Joystick for the control of the piston
Hand pump for precise press work
Foot pedal or hand remote controller
V-block set for extra support
Mandrel set of ∅ 18, 33, 45, 58 and 72 mm (with suitable piston head for the 100 ton workshop press)
Dimensions
A: 2140
B: 1350
C: 755
D: 1100
E: 300
F: 1665
G: 150
H: 180
I: 750
J: 865
K: 250
' PRESS TO IMPRESS '
Let's Keep in touch