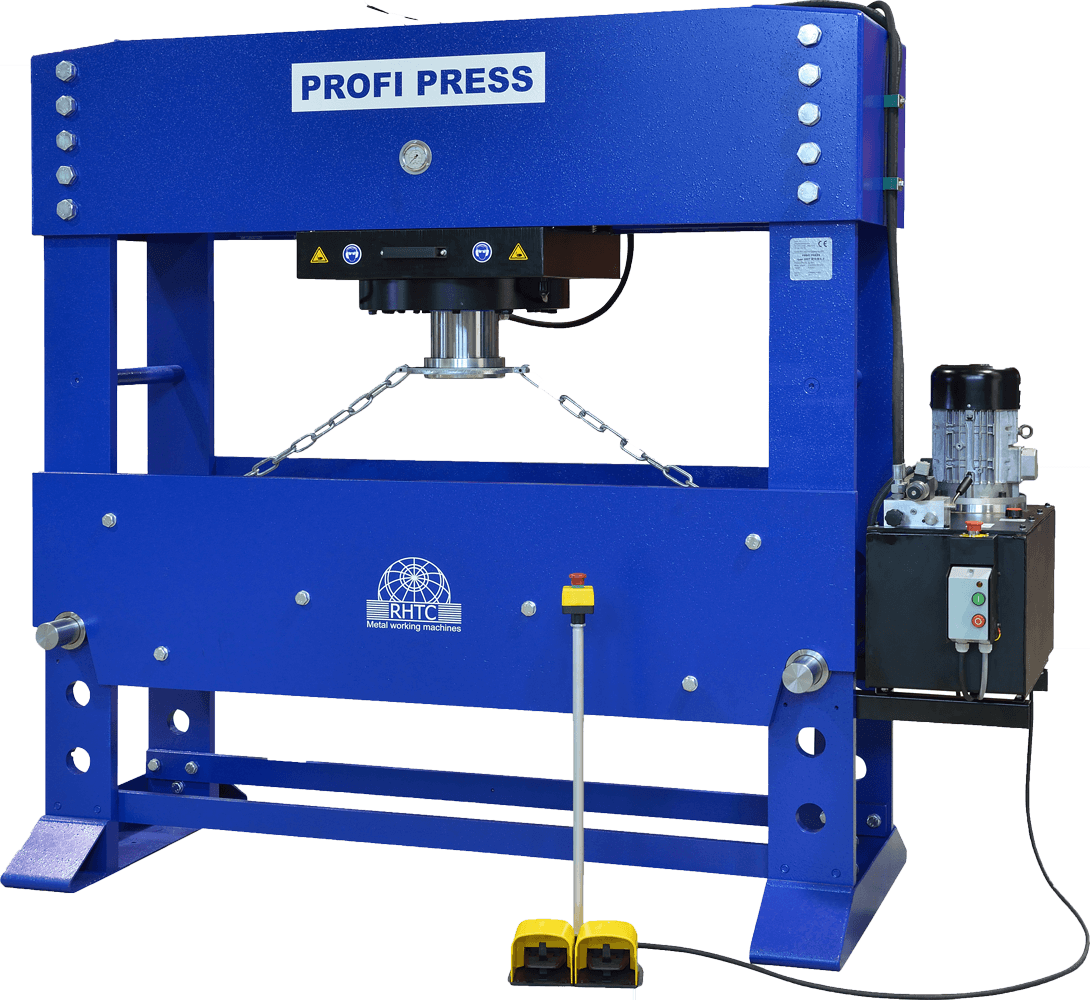 The 300 ton workshop press is a heavy-duty motorised hydraulic press with a working width of 1750 mm for handling large materials.
Equipped with a movable cylinder (left-right), in height adjustable work table (effortlessly with the motor), pressure regulation and 2 speeds.
This 300 ton workshop press will be delivered including a foot pedal or a hand remote controller.
Technical specifications
Pressure force [kN]: 2943
Maximum pressure [bar]: 260
Piston stroke [mm]: 480
Oil delivery [ltr/min]: 12/33
Oil capacity [dm³]: 100
Working speed [mm/sec]: 1.80
Approaching speed [mm/sec]: 4.90
Return speed [mm/sec]: 6.20
Motor power [kW]: 5.5
Voltage [V]: 400/3
Frequency [Hz]: 50/60
Revolutions per minute [rpm]: 2800
Insulation protection [IP]: 54
Working width [mm]: 1750
Weight [kg]: 3150
Diameters
Inside diameter of cylinder [mm]: 380
Diameter of piston rod [mm]: 180
Diameter of piston head [mm]: 215
Features
Movable cylinder
Integrated pressure manometer
Pressure regulation
Hydraulic unit with two speeds
In height adjustable working table
Foot pedal or hand remote controller for the control of the piston
V-block set for extra support
NC-control to control the press settings digitally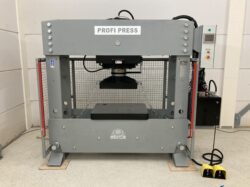 This is a custom-made 300 ton workshop press, delivered to Elestor, including NC-control, pressure plates and auto-mode (hence the light guards and protection screens around the hydraulic press).
Dimensions
A: 2250
B: 2120
C: 985
D: 1750
E: 500
F: 2550
G: 177
H: 180
I: 531
J: 1085
K: 420
' PRESS TO IMPRESS '
Let's Keep in touch