Hydraulic presses for every branch!
Hydraulic presses for the automotive industry:
Many companies use our hydraulic presses for designing, developing and testing parts in the automotive industry. Especially our C-frame presses and four column presses are favourite models amongst our customers in the automobile sector.
We delivered the C-frame presses from the picture to a company in the automotive sector as well. They supply their products to many leading car companies such as Jaguar cars, Porsche and Rolls Royce.
Hydraulic presses for the truck industry:
Many truckgarages use our presses to press wheel bearings in and out. And for this type of work we offer a wide range of hydraulic workshop presses. Our program includes both manual workshop presses (from 15 up to 50 ton) as well as motorised workshop presses (from 30 up to 300 ton). These presses are available in different working widths, so that very large wheels also fit inside the H-frame of this press.
We deliver these workshop presses for many years now. It is our main and best-seller product. And we sell them to a lot of truck – and auto garages all over the world.
Hydraulic presses for the aviation industry:
We supplied this press line to a company who uses it to press and form toilet doors of airplanes. This production press line is fully manufactured to the requirements of the customer. So, it is 100% custom-made!
This line of presses contains 4 hydraulic workshop presses. And it features supply rails, a heating section, a cooling section and PLC control. With this PLC control the operator regulates the pressure / cycle time / position of the cylinder stroke digitally.
You can find more information about this press for the aviation industry here!
 Jack Tester Units for the aviation industry:
Our tripod jack tester is designed to check the pressure forces of tripod jacks. Exclusively made in the Netherlands. You can test all kinds of tripod jacks with these test units. 100% custom-made for the Dutch Ministry of Defence!
The design of this jack tester is registered in the NATO database and we have a NCAGE-code as well. Are you interested in more information about these jack tester units? Whether it is for testing tripod jacks in the aircraft or automotive industry or for any other load testing job? Contact us for more information, we are happy to help!
Hydraulic press for isolation:
This tailor-made C-frame press is used to press minerals like perlite and vermiculite. The company that bought two of these C-frame presses specializes in insulation products for the industrial sector and cultivation solutions for the agricultural sector. They produce, for example, fire-resistant, sound and thermally insulating products. After they started to use the custom-made C-frame presses the quality of their products improved. Furthermore, their outages have been reduced to a minimum. What a great result!
At our YouTube-channel, you can find a video of this press in operation.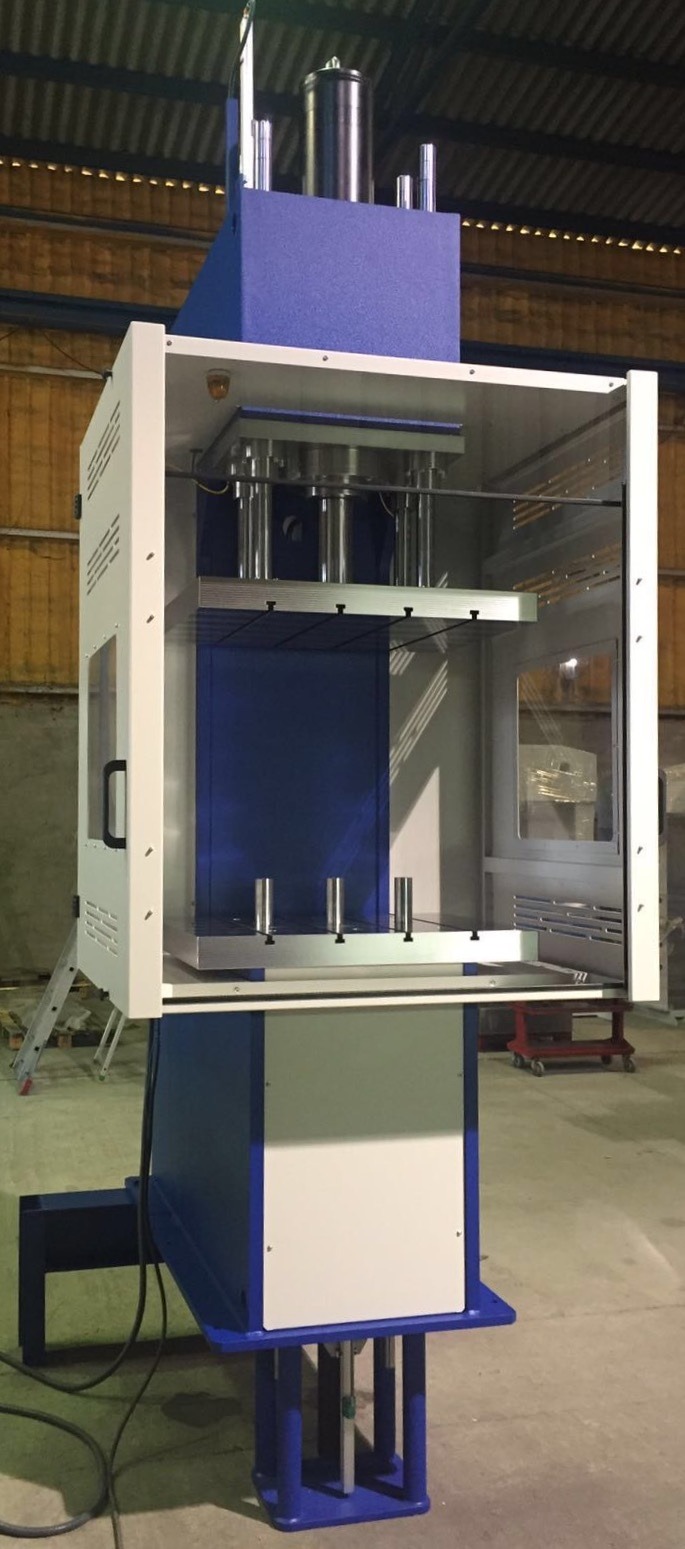 Hydraulic presses for the railway industry:
Several companies use our presses to produce parts for railway tracks as well. We provided this 50 ton C-frame press with punching- and folding equipment as well as an ejector with timer. The customer programs the permanence and compression time of both the main cylinder and the ejector cylinder in the PLC of the press. In this way the customer can adjust the work cycles that are required for each type of pressing and material. Our customer in Bangkok e-mailed us this picture. It shows the punching equipment inside the working area of the press.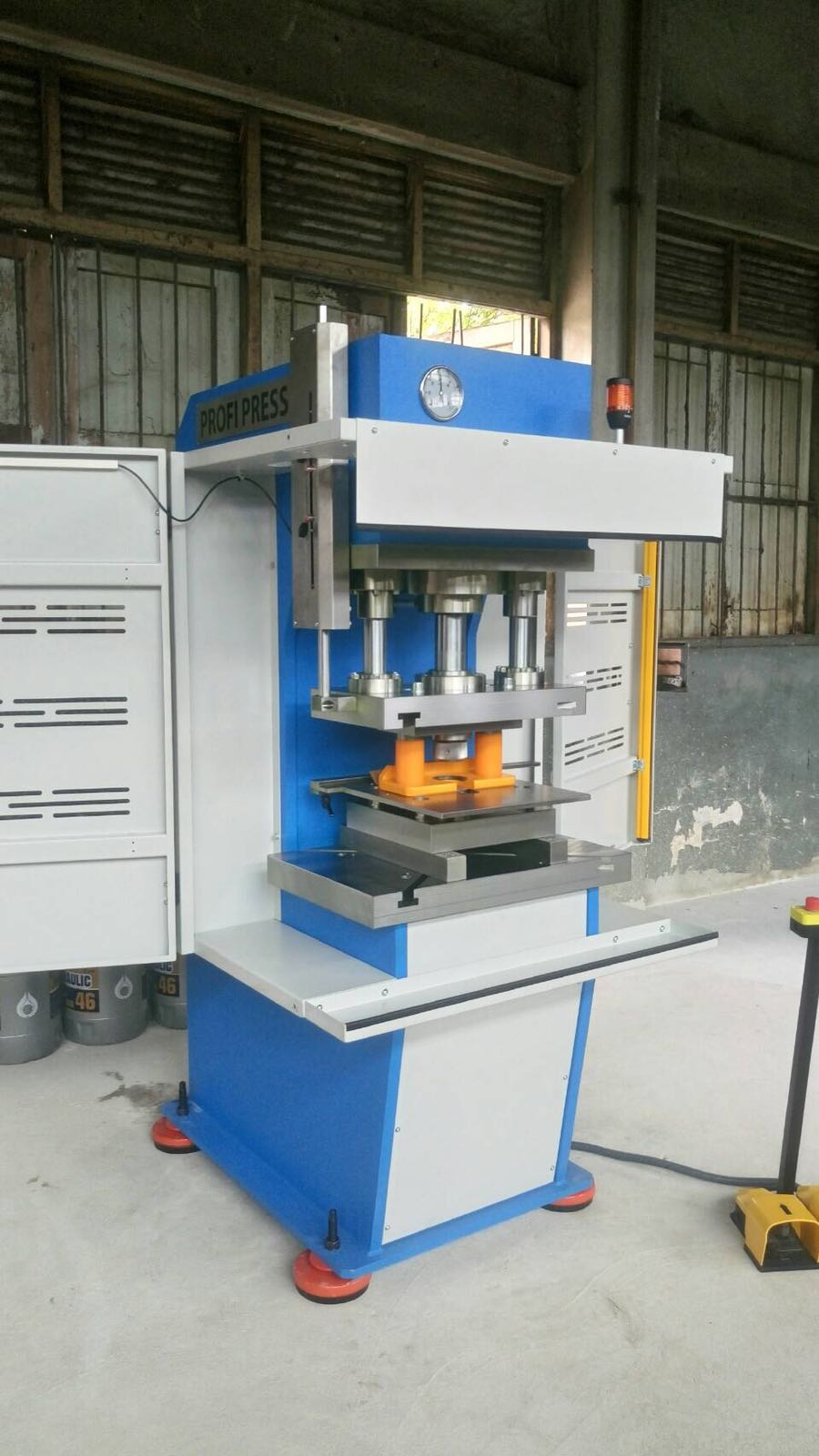 Hydraulic press for food industry:
A company in the food industry uses this 2000 ton rubberpad forming press for developing and testing parts. However, a rubberpad forming press can be used in many different industries. Especially at the research- and development departments of those companies.
The rubber cushion inside the press can be used for many different product shapes. During the forming cycle the rubber becomes elastic and deforms a metal plate over or into the product-specific die. After removing the pressure, the rubber springs back to its original shape. Whereas the metal sheet acquired the desired product shape. Rubber pad forming is suitable for a product range with many different shapes made in small production series.