Custom-Made Hydraulic Presses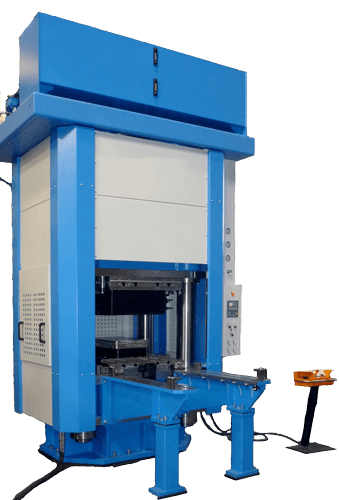 Do you require a special designed hydraulic press? Whether it is a case of adjusting dimensions, capacities, hydraulics or electrics, RHTC adapts a hydraulic press entirely to your needs! Manufacturing custom-made hydraulic presses is no problem for our engineers.
Over the last few years we delivered many custom-made hydraulic presses. So, in this section of our website we would like to show you some of them. Fully customized and adapted to various requirements of our customers.
The process of delivering a custom-made hydraulic press
When you need a tailor-made design for one of our hydraulic presses, every detail will be discussed. After extensive communication (via e-mail or meetings in person), we will start with the technical drawings. We aim to send these drawings within a couple of weeks after receiving the official order. Together we check the drawings and make little adjustments (if necessary). Once you are 100% satisfied about the design, you sign the drawings for approval. And after that the production process starts. Naturally we keep you informed along the production process, because a clear communication is the key for success!
Once the custom-made hydraulic press is finished, we invite you to come over to the factory. Together we perform the final checks. When you are not able to visit the factory (since we deliver our hydraulic presses all over the world and the factory is in Europe), we make some tests ourselves and record it on video. After your approval, we schedule the transport to make sure the machine will reach you as soon as possible.
Contact us for our expertise
Do you require a special custom-made hydraulic press yourself? Please do not hesitate to contact us! We have the expertise to deliver our tailor-made presses with the same high, long-lasting quality as our standard hydraulic presses. Together with our world-wide dealer network, we can assist you for almost every case.
Our team looks forward to receive your message!
Let's Get Started
' PRESS TO IMPRESS '