Press with large piston stroke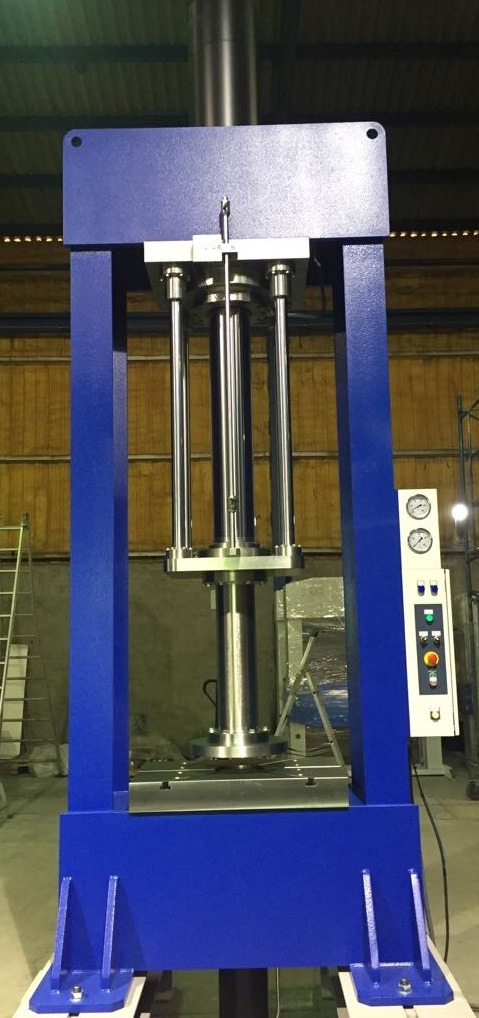 This custom-made 220 ton press is made with four stanchions and a fixed bed to ensure the stability of this high press. 
Its piston stroke is limited by cams and the holding time of the piston at the bottom of the dead centre is adjustable up to 30 seconds. The cylinder is also equipped with an additional extension to enlarge the cylinder stroke.
The special hydraulic press is provided with an ejector with an upwards stroke of 700 mm, a power of 50 ton and has a diameter of 200 mm (its stroke is also limited by cams). 
We delivered a couple of pressure plates with various diameters together with the machine as well.
Exclusively made in Europe. Interested? Contact us!
Technical specifications
Pressure force main cylinder [tn]: 220
Maximum pressure [bar]: 320
Piston stroke main cylinder [mm]: 1200
Max. vertical light [mm]: 1945
Table height [mm]: 750
Pressure force hydraulic cushion [tn]: 50
Piston stroke hydraulic cushion [mm]: 700
Features
Structure with four stanchions and fixed bed

Double effect main cylinder with removable hold-down

Large piston stroke (1200 mm) limited by cams
Adjustable hold-time at the bottom of the dead centre
Operation by foot pedal as well as by hand push buttons
Hydraulic ejector in the lower table
4 adapters for the piston head with pressure plates
' PRESS TO IMPRESS '
Let's Keep in touch