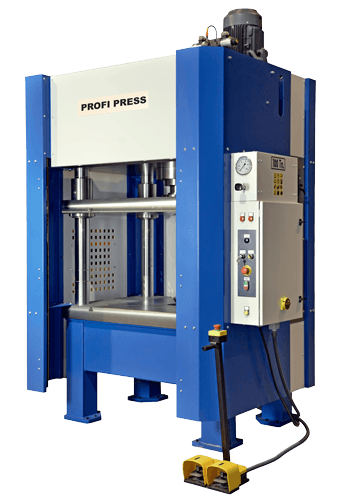 Our hydraulic four column press is designed to perform work with high accuracy. Its quality is extremely high!
When you need to carry out tasks that involve deep-drawing, die-cutting, metal forming, stamping and pressing with a high accuracy and perfect parallelism, we highly recommend our four column press.
Perfect parallelism
Our hydraulic 4 column presses are equipped with a mechanized lower- and upper table with T-shaped grooves. The four cylindrical, chromed columns with lateral rails ensure a perfect alignment of the upper table. It is easy to adjust and control the position of this upper table (piston stroke) from a side panel.
We manufacture these hydraulic presses with a double acting cylinder with maintenance-free anti-wear guides. Furthermore, the presses have a two-speed motorised hydraulic unit with an automatic deactivation of the high speed. Also the hydraulic unit has a cylinder decompression valve, a silent hydraulic pump, a pressure switch and a manometer. The control panel features a selector for the manual, semi-automatic or automatic operation as well as a selector for the two different cylinder speeds (fast approach speed and slow working speed).
A safe operation
The operation of these hydraulic presses is carried out by low-voltage electrical pedals. Safety is guaranteed by level IV photo-electrical sensors situated at the front of the press, two fixed lateral protection panels and one protection panel (which can be opened) with a magnetic detector disconnection switch situated at the rear. The electric and hydraulic manoeuvres are self-controlled, to ensure the safest operation.
The Profi Press hydraulic four column press is made in Europe with solely high quality components. They fulfill the latest safety and health CE-regulations and we deliver them with a warranty of two years.
Please contact us when you would like to receive a quotation for one of our standard or custom-made presses!
Let's Get Started
' PRESS TO IMPRESS '