Two weeks ago, we have informed you about the portal presses that we received in our warehouse. Amongst these portal presses was the new, large hydraulic portal press: a 100 ton portal press with a manually movable frame / cylinder and with an extra wide working width (1500 mm). Last Friday we welcomed some potential customers in our warehouse to test this machine. They were the first one to test it and we hope that many more customers will follow!
At RHTC we encourage our customers to test a press before buying it. Especially when they have a specific job for the machine. We invite customers over to our warehouse and ask them to bring the material / parts they want to test. One of our colleagues demonstrates the machine and afterwards the customers test the press to see if it fulfils their requirements.
Positive test results
This 100 ton portal press with extra wide working width passed the tests from the customer last Friday! They made several tests and were happy with the result. And so are we!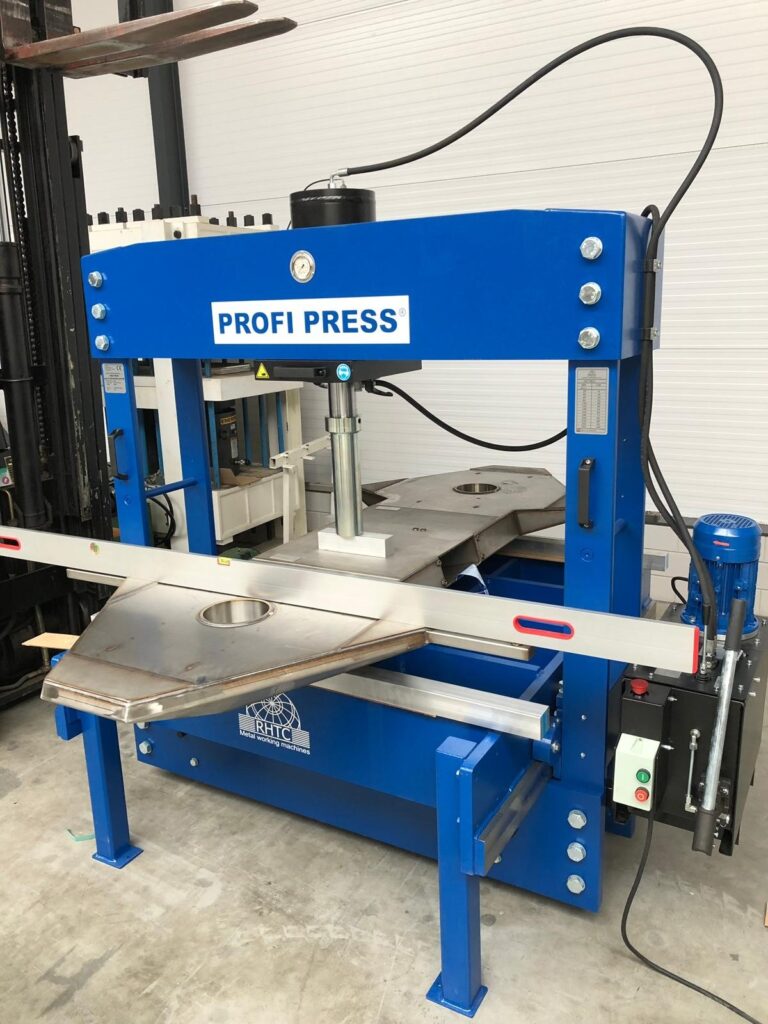 This hydraulic portal press can be used for straightening large materials and parts (as you can see on the picture). It is made in the Netherlands and the quality is extremely high. Do you have a straightening task as well and would you like to make some tests before buying this press? Please do not hesitate to contact us! We are looking forward to welcome you and to show you around in our company!
Portal presses with motorised movable frame
Next to this portal press with manually movable portal, we also have portal presses with a motorised movable frame and cylinder in our program. Produced in Europe and this type can be manufactured with a tonnage up to 400 ton and a table length of 6 meters! Sounds interesting to you? Let us know and we will send you some more details!