Portal presses with manual movable portal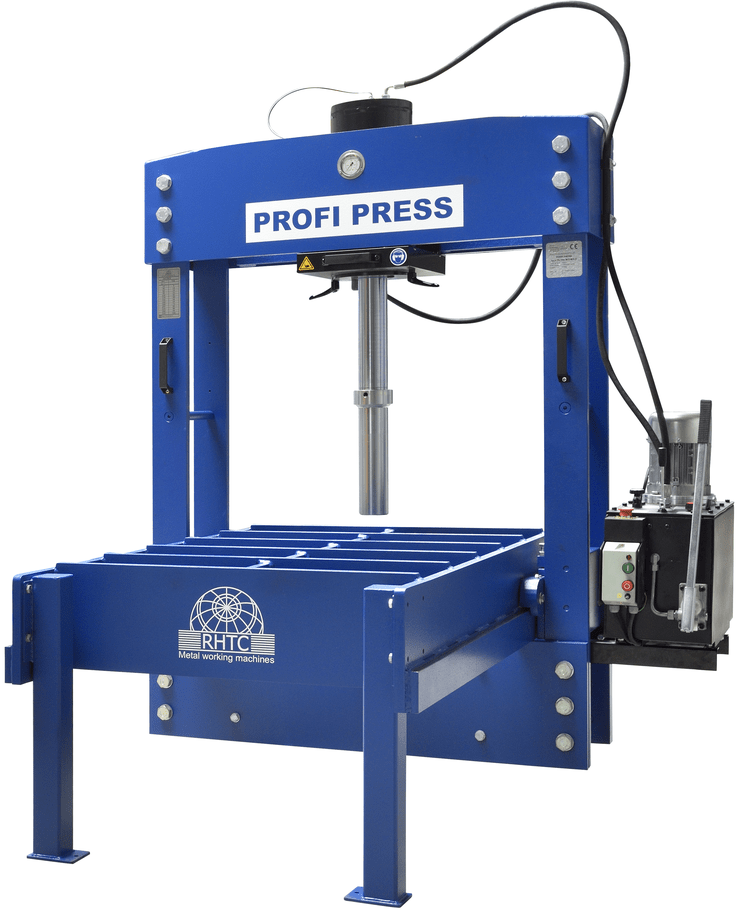 Our portal press with a manually movable portal is made out of high quality steel.
These Profi Press portal presses are equipped with a movable cylinder (left-right) and a movable frame (longitudinal). You can move the cylinder and frame by hand. So, the operator has an easy access to all different points of the surface. This hydraulic press is eminently suitable for the straightening of large sheets and heavy structures.
The hydraulic system is very precise, whether you operate the press electrically or manually (with the hand pump). Furthermore, this straightening press is equipped with an integrated manometer and pressure regulator. With these features you can check and control the current pressure during the operation of the press. The two-speed motorised hydraulic unit has an automatic disconnection of the high speed as soon as there is counter-pressure. Additionally this portal press also contains a joystick to control the cylinder and a hand pump for precise press work.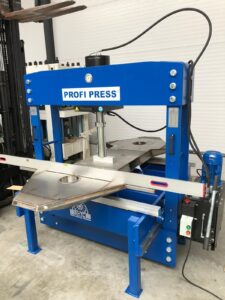 We deliver several options with our straightening presses. For example a flat lower table plate, a hand remote controller and a foot pedal. If you would like to work with a tailor-made portal press, ask us for the possibilities!
Are you looking for a gantry press with a motorised movable portal? Please find them here on our website and ask us for a quotation.
We supply our hydraulic portal press with manually movable frame straight from stock. Both the 100 ton model as well as the 160 ton model. Furthermore, we deliver these straightening presses with a warranty of two years. And they fulfil the latest CE-regulations to guarantee a very high quality.
Please scroll down to find out more about the features and technical specifications.
We show some video's of our machines at our YouTube-channel, have a look!
Let's Get Started
' PRESS TO IMPRESS '