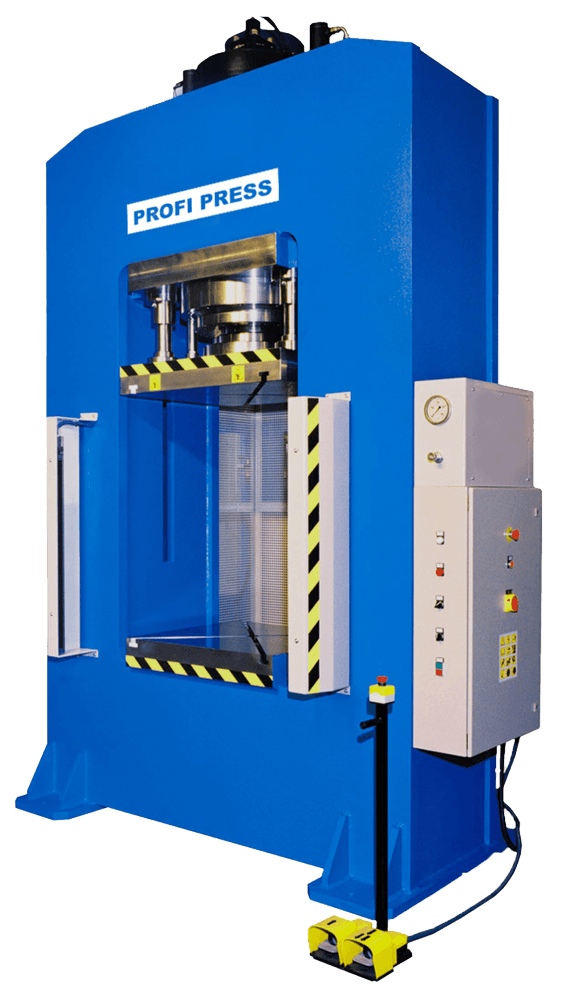 Our hydraulic production press is made in Europe and eminently suitable for metal forming / to incorporate in automated production lines.
Our hydraulic production presses consist of an electro welded structure made out of S355JR steel and are equipped with a mechanized lower- and upper table with T-grooves. Four cylindrical, lateral guides are installed to ensure a perfect alignment of the upper table and the position of this upper table (piston stroke) can be easily adjusted and controlled from a side panel.
The Profi Press hydraulic production press is provided with a double acting cylinder with lapping liner, chrome plunger and anti-turning piston. The two-speed motorised hydraulic unit with automatic high speed deactivation is equipped with a cylinder decompression valve, a pressure regulator and a manometer in tons to read out the applied pressure.
The production press has a selector for a manual, semi-automatic and automatic operation as well as the selector for the two different cylinder speeds (fast approach speed and a slower working speed) for an easy operation. The operators' safety is guaranteed by level IV photo-electrical sensors situated at the front of the press and two protection panels (which can be opened) with a micro disconnection switch situated at the rear. The electric and hydraulic manoeuvres are self-controlled as prescribed by the latest safety CE-regulations. 
The Profi Press hydraulic production press can be delivered with several options such as a hydraulic cushion or ejector (in upper-, lower- or both tables), digital NC Siemens control or the geometry adapted to your needs. All our production presses (standard machines as well as custom-designed presses) are delivered with two-year guarantee.
Let's Get Started
' PRESS TO IMPRESS '