Manual Hydraulic Press (50 Ton HF-2)
Our manual hydraulic press (50 ton HF-2) can be operated by hand as well as by foot: the handpump is interchangeable to a foot pump. This  workshop press has a movable cylinder and the height of the work table is easy to adjust with a winch. Thanks to the in-height adjustable work table of this hydraulic press, you can easily work with different material / product sizes.
The hand- and foot operated Profi Presses have an integrated manometer and a chrome piston (that returns automatically). Standard supplied with a set of V-blocks for extra support. These manual hydraulic presses are made in Europe and delivered according to the latest CE standards.
Ask us for an offer below or contact us directly by telephone or e-mail!
We keep these hand- and foot operated hydraulic presses in our stock in the Netherlands, so if you need one fast, let us know! We deliver them over the whole world and within Europe we can deliver these presses within a couple of days.
Technical specifications of the 50 ton HF-2
Pressure force [kN]: 490.5
Pressure max. [bar]: 399.5
Cylinder stroke [mm]: 160
System capacity [dm³]: 2.5
Movable cylinder: yes
Working width [mm]: 750
Weight [kg]: 340
Diameters
Inside diameter of cylinder [mm]: 140
Diameter of piston rod [mm]: 50
Diameter of piston head [mm]: 60
Dimensions of this manual hydraulic press (50 ton)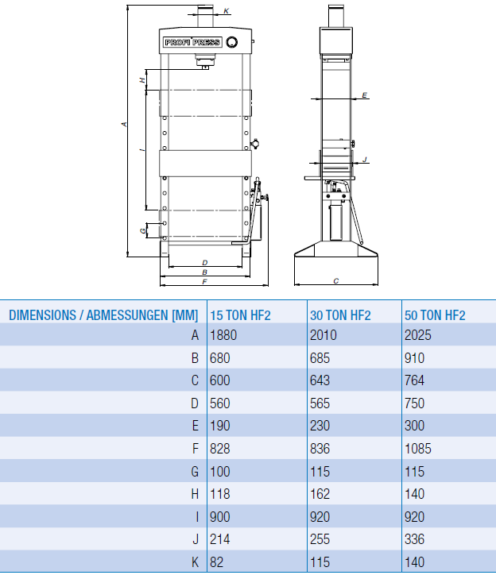 Click on the imagine above to have a good overview of the dimensions of the manual hydraulic presses from Profi Press.
If you would like to see some demonstration videos of our hydraulic presses, go visit our RHTC YouTube channel! And of course, you are most welcome to visit our showroom to get a live demonstration as well. 
' PRESS TO IMPRESS '
Let's Keep in touch