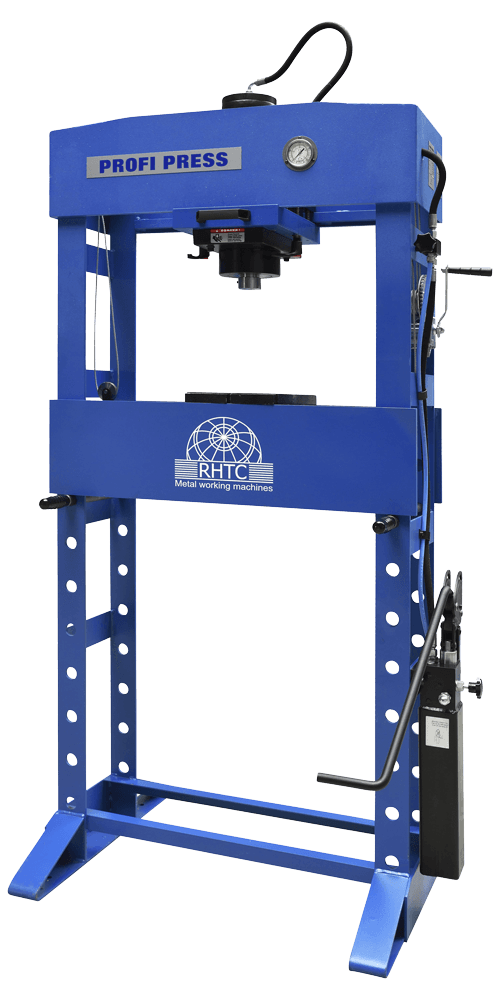 Onze 50 ton hydraulische werkplaatspers kan zowel met hand als met voet worden bediend: de handpomp kan worden omgeschakeld naar een voetpomp. Deze garagepers heeft een beweegbare cilinder en de hoogte van de werktafel is eenvoudig in te stellen met een handlier.
De hand- en voetbediende Profi Press heeft een geïntegreerde manometer en een verchroomde zuiger (die automatisch terugloopt). Standaard geleverd met een set V-blokken. Deze manuele werkplaatspersen worden in Europa gemaakt en geleverd volgens de CE-normen.
Vraag een offerte op of neem rechtstreeks contact met ons op via telefoon of e-mail!
Technische specificaties
Perskracht [kN]: 490.5
Maximale druk [bar]: 399.5
Cilinderslag [mm]: 160
Systeemcapaciteit [dm³]: 2.5
Verschuifbare cilinder: ja
Werkbreedte [mm]: 750
Gewicht [kg]: 340
Diameters
Binnendiameter van de cilinder [mm]: 140
Diameter zuigerstang [mm]: 50
Diameter zuigerkop [mm]: 60
Kenmerken
Te bedienen met hand of met voet
Verschuifbare cilinder
De hoogte van de werktafel is eenvoudig in te stellen door middel van een lier
Geïntegreerde manometer
Verchroomde zuiger
Automatische terugloop van de zuiger
V-blokken set
Optioneel
Drukdoornset van Ø 5, 10, 14, 18, 24 en 29 mm (met een bewerkte zuigerkop voor de 50 ton HF-2)
Afmetingen van de 50 ton hydraulische werkplaatspers in mm

A: 2025
B: 910
C: 764
D: 750
E: 300
F: 1085
G: 115
H: 140
I: 920
J: 336
K: 140
' PRESS TO IMPRESS '
Laten we contact houden