Our profile bender a real best-seller. Our customers like it so much because its base is very robust and you can work with it very fast as well. The rollers have a rotational speed of 11 rotations per minute!!
During the conversations that we have with our customers, we hear that they prefer the Profi Bend profile bending machine in comparison to other brands for several reasons:
It is easy to switch from working with 2 driven rolls to working with 3 driven rolls!
You can work in horizontal and vertical position without any effort (just pull a pin and move the upper base)!
The profile bender is very fast, it has a high rotational speed.
The base is very solid and robust and the machine is made with solely high quality components.
Moving the upper roll up and down is very easy and smooth:

The PB40-3 and PB50-3 have a handwheel to move the upper roll manually
The PB50-3 H has a hand pump to move the upper roll with a hydraulic system
And our new model / option, the PB50-3 HM has an electric control panel device to move the upper roll motorised via its hydraulic system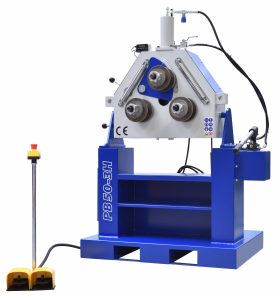 The Profi Bend profile bending machines are standard equipped with modular straight bending rollers for rolling construction profiles and flat bars. These standard rollers are made of 40HM steel. But we can deliver sets of additional rollers for bending pipes and bars in many dimensions as well of course! Optionally we also provide our profile bender with a yoke or a spiral bending device.
As you can read, there are multiple reasons to choose for our Profi Bend. We keep all our profile bending machines in stock, so delivery can be very fast.  If you would like to receive a quotation for one of the aforementioned models, please contact us! Our RHTC team looks forward to your call / e-mail!