If you want to bend profiles or pipe material, the profile bending machine from Profi Bend is your best choice!
With our range of profile bending machines you can bend a huge variety of different profiles in almost any desired radius. We produce them in Europe and they are equipped with a lot of features to make your bending job easy.
All our profile benders can be used in a vertical as well as a horizontal working position. Changing this working position is quick and easy by just tilting the head (not the whole body). The weight of the head is compensated by a hydraulic cylinder.
All our profile bending machines are delivered with a foot pedal and a standard set of rollers to bend different profiles.
Equipped with 3 driven rolls and it is easy to switch between working with 2 driven rolls or 3 driven rolls.
The adjustment of the position of the upper roll is very easy:

The PB40-3 and PB50-3 have a hand wheel for manual adjustment.
The PB50-3H has a hydraulic hand pump to move the the upper roll via its hydraulic system.
The PB50-3 HM has an electric control panel device to move the upper roll motorised via its hydraulic system.
The Profi Bend machines can also be delivered with several optional accessories, such as different kinds of roller sets (from 1/4 inch to 2 inch) in several types of steel and plastic. These roll benders can also be provided with distance rollers, a yoke and a spiral bending device.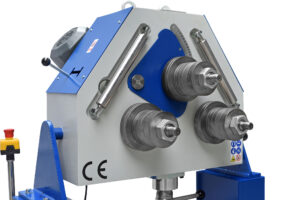 During the Euroblech we made a video of the demonstration of our profile bending machine with the hydraulic adjustment of the upper roll and published it on our YouTube Channel. 
We deliver these profile bending machines directly from our stock. Furthermore, we can also demonstrate them in our showroom in the Netherlands! Would you like to receive more information? Please contact us, we are happy to help!