This 300 ton Profi Press is ready for delivery! Please take a moment to have a good look and appreciate it. Do you see that finishing touch?! We are proud to offer these high quality production presses in our program as well.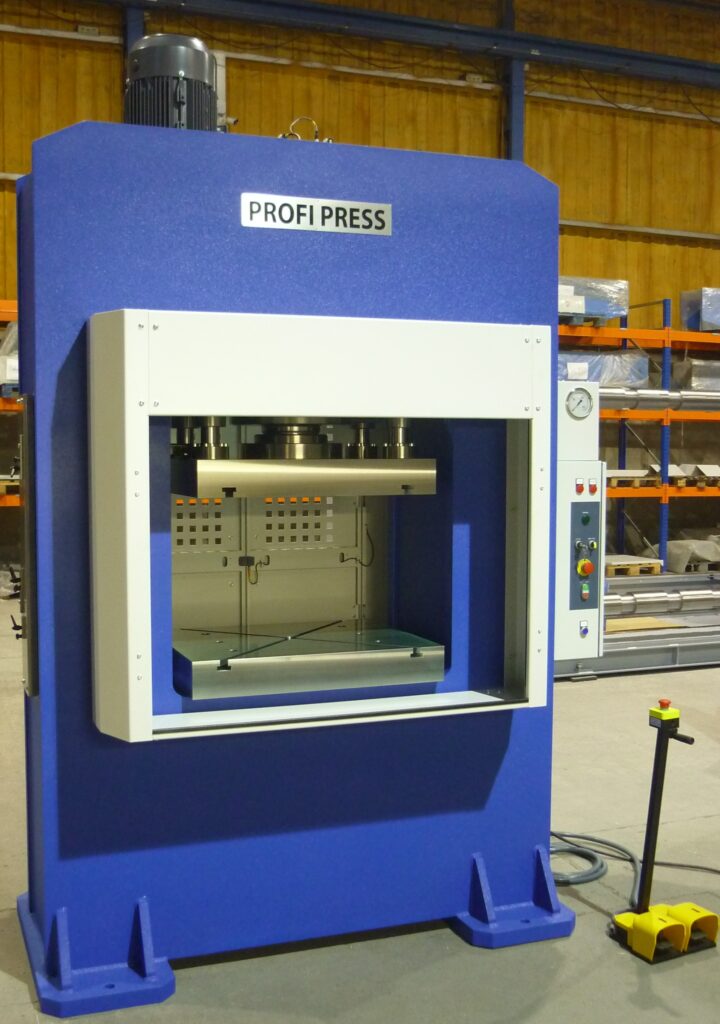 Our production presses are often used for stamping, die-cutting and forming operations. The maintenance of the machine is minimal due to the constructive features of the mechanisms of the press. Because of the robust design and the high quality cylinder and components, this 300 ton Profi Press has a very long durability. A hydraulic press to enjoy a lifetime!
Specifications of the 300 ton production press
These production presses are equipped with a upper- and lower table with T-grooves. Four cylindrical, lateral guides lead the upper table. These guides ensure a perfect alignment of the vertical movement. The customer chooses the standard 300 ton production press which has an lower table size of 850 x 650 mm and an upper table size of 750 x 600 mm. These tables have T-grooves, so you can fix a tool / mould easy and safe.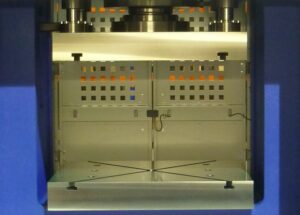 The cylinder is provided with limit switches for the top- and bottom stroke ending. And there is also a limit switch to adjust the position where you want the cylinder to change from approach speed to working speed.
This 300 ton Profi Press model features a selector for a manual, semi-automatic and automatic operation. To keep track on the pressure, the press has a pressure switch and manometer.
For a safe operation, the press has light guards in the frontal working area and a door on the backside with a magnetic detector disconnection switch. The valves that operated in dangerous movements are self-controlled. Besides the system includes a safety block that prevents the die from falling.
Would you like to know more about this beautiful press? Contact us or our dealer who sold it, we are happy to inform you and to answer all the questions you might have