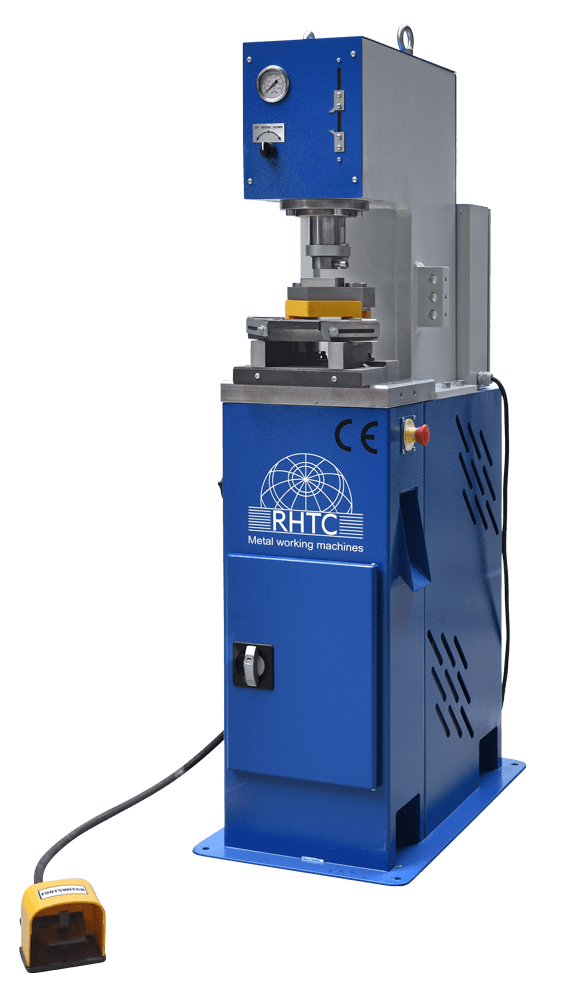 The Profi Punch '16 is an hydraulic punching machine that can be used as a C-frame press as well.
Our punching machines can be delivered with several punch tools (standard or custom-made). These tools can be fixed directly under the pressure plunger of this hydraulic punching machine. Thanks to this punching system, a wide range of punching and pressing operations can be done with only one machine (and interchangeable tooling).
This hydraulic punching machine is made in Europe and we deliver it directly from our stock.
Contact us for more information or ask us for a quotation via the button below.
Technical specifications
Pressure force [tn]: 16
Motor power [kW]: 2.2
Min. working speed [mm/sec]: 2
Max. working speed [mm/sec]: 9.8
Return speed [mm/sec]: 20
Piston stroke [mm]: 70
Throat depth [mm] 160
Total length [mm]: 800
Total width [mm]: 450
Overall height [mm]: 1430
Weight [kg]: 350
Features
Can be used as punching machine and C-frame press
Adjustable piston stroke up to 70 mm
Manual / Automatic mode
Interchangeable punch tools, for example:

Corner wedge shaped punch
Pipe cutter for perpendicular pipe
Slotted hole punch
Corner rounding notcher
Corner cutting notcher
Hole puncher for pipes
Sheet metal cutter
' PRESS TO IMPRESS '
Let's Keep in touch