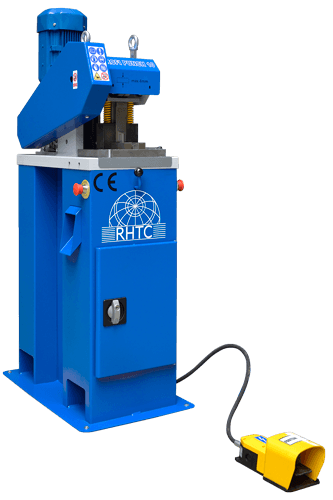 The Profi Punch is a punching machine designed for deforming material by punching / shearing holes and making undercuts in sheets and sections.
This punching machine can be used for punching sheets up to 4 mm thickness, depending on the punch tool and material and this punch machine is characterized by a durable and simple design for an easy operation. The punching system consists of an interchangeable punch tool and immobile die. The Profi Punch can be delivered with several punch tools (standard or custom-made). Thanks to this punching system, one can perform a wide range of punching operations with only one machine (and the interchangeable tooling).
We deliver the Profi Punch directly from our warehouse in the Netherlands and several tools are available to install into the punch-die (a pipe cutter or corner cutting notcher for example).
The Profi Punch is made in Europe and these punching machines fulfil the latest CE-regulations. We always keep the machine in stock, as well as the standard punch-tools. Contact us if you would like to see one of these machines in operation for example. You are always welcome to visit our showroom and we are happy to demonstrate.
Let's Get Started
' PRESS TO IMPRESS '