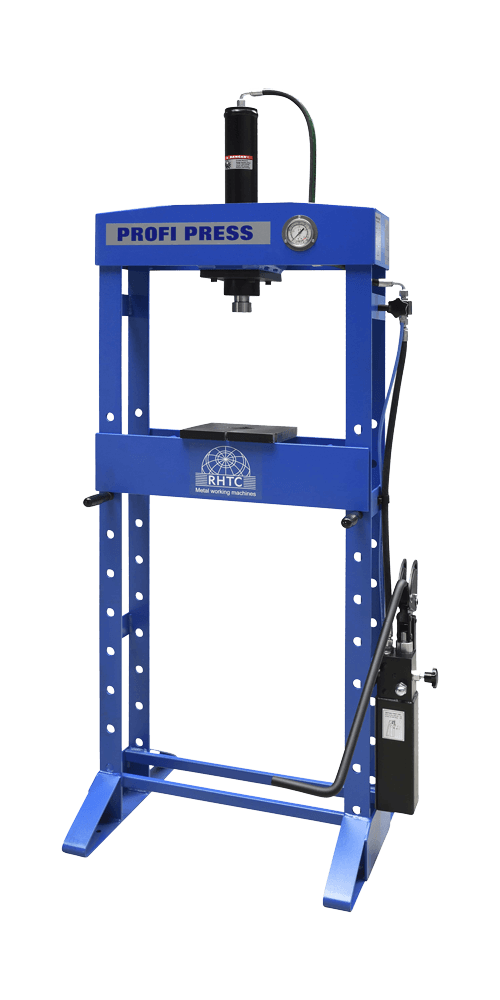 Our 15 ton workshop press can be operated by hand as well as by foot: the handpump is interchangeable to a foot pump. This small hydraulic shop press has a fixed cylinder and the height of the work table is easy to adjust.
The hand- and foot operated Profi Presses have an integrated manometer and a chrome piston (that returns automatically). Standard supplied with a set of V-blocks. These manual workshop presses are made in Europe and delivered according to the CE standards.
Ask us for an offer below or contact us directly by telephone or e-mail!
Technical specifications
Pressure force [kN]: 147,15
Pressure max. [bar]: 382,2
Cylinder stroke [mm]: 160
System capacity [dm³]: 1,65
Fixed cylinder: yes
Working width [mm]: 560
Weight [kg]: 117
Diameters
Inside diameter of cylinder [mm]: 82
Diameter of piston rod [mm]: 40
Diameter of piston head [mm]: 50
Features
Hand- and foot operated
Fixed cylinder
The height of the worktable is easy to adjust
Integrated pressure manometer
Chromed piston
Automatic piston return
V-block set
Dimensions of the 15 ton workshop press in mm
A: 1880
B: 680
C: 600
D: 560
E: 190
F: 828
G: 100
H: 118
I: 900
J: 214
K: 82
' PRESS TO IMPRESS '
Let's Keep in touch