Horizontal Hydraulic Press (PPHB-28NC)
Our horizontal hydraulic press (28 ton) can be used for many different metal working jobs. The press has a piston stroke of 192 mm and can be equipped with all kinds of tooling for specific bending or straightening jobs. We supply a standard toolingset with this press including a stampholder and backgauge. However, we also produce custom-made tooling for your specific request. 
Thanks to the NC-control you can easily set the cylinder stroke and save up to 100 working cycles.
With this horizontal hydraulic press you are able to bend, straighten, notch, cut and form. A universal hydraulic press that serves all your needs in cold metal working processes. 
Our PPHB-28NC is made in Europe. We always keep these Profi Press horizontal presses in our stock, so delivery can be fast!
Technical specifications
Pressure force [tn]: 28
Motor power [kW]: 3
Piston stroke [mm]: 192
Piston diameter [mm]: 130
Oil delivery [ltr/min]: 6
Min. working speed [mm/sec]: 1
Max. working speed [mm/sec]: 9.8
Return speed [mm/sec]: 12,8
Pressure max. [bar]: 250
Useful table size (L x W) [mm]: 300 x 550
Bending capacity flat steel [mm]: 200 x 10
Total length [mm]: 1150
Total height [mm]: 1103
Working width [mm]: 750
Weight [kg]: 800
Features of this horizontal hydraulic press
NC-control to set the piston stroke and save up to 100 programs
Selector for manual or semi-automatic operation
Flow adjustment valve and pressure control valve
Integrated pressure manometer
Worktable with an angular graduation
Back gauge
We provide different tooling to install on the worktable, on the tool mount and in the punch- and pin holes for a wide range of operations and tasks
Optional accessories
Motorized back gauge
Tool for bending material with a large radius
Accessory for bending a rod (symmetrical)
Tool for bending sheet metal into specific shape
Several stamps and dies
Contact us with your requirements, we offer all kinds of solutions for specific bending / straightening jobs.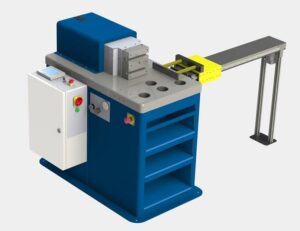 ' PRESS TO IMPRESS '
Let's Keep in touch