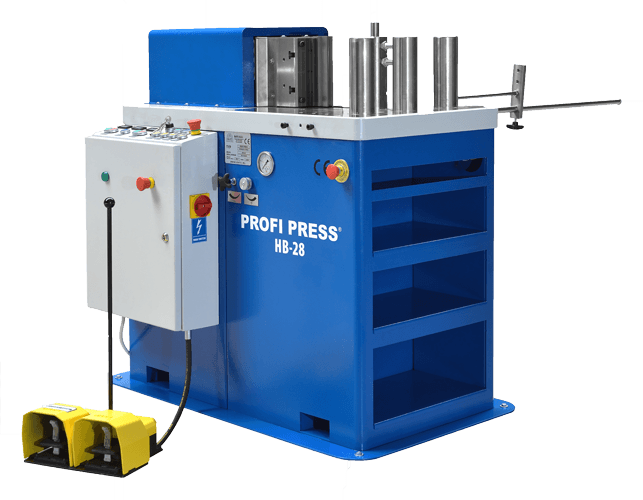 This horizontal straightening press is designed for a wide variety of bending, profiling and straightening operations.
The application of this Profi Press bending / straightening press varies depending on the accessories that you install onto the press. In fact, we have several tools available to install on the worktable and tool mount and in the punch- and pin holes. The HB-28 is equipped with an angular graduation on the worktable for easy bend measurements. Furthermore we deliver this horizontal press with multiple tools that you can mount on the tool mount and tools that you can install in the punch and pin holes to perform several works.
By means of the pressure- and flow adjustment valves you regulate the hydraulic system of this horizontal straightening / bending press. Adjusting these valves affects the pressing force and the speed of the press. The HB-28 is also equipped with an integrated manometer. Furthermore, the control panel of this horizontal straightening press features a selector for manual or automatic operation. Besides the HB-28 is also provided with a NC-control to set and read-out the piston stroke and to save up to 100 programs too. With the electric foot pedals you can operate the hydraulic press.
There are many possibilities and purposes for this horizontal straightening press. So please inform us about your request; we will do our best to design the tools that suit your requirements. This Profi Press straightening / bending press is made in Europe and fulfils the latest CE-regulations.
Let's Get Started
' PRESS TO IMPRESS '