A new Roll Bender Model is now part of the Profi Bend assortment: the PB50-3HM!
Allow us to introduce you to this new profile bender, which is directly available from our stock in the Netherlands!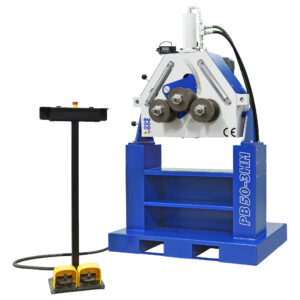 You have been familiar with our PB50-3H for a while, which is our profile bending machine with a hydraulic adjustment of the top roll by means of a hand pump. Next to that, we also have the PB50-3HM; with this roll bender model you adjust the position of the top roll hydraulically and motorised (hence the abbreviation HM).
A short reminder of the amazing features of our Profi Bend machine:
You can work in a vertical and horizontal position: changing this work position is quick just by tilting the head thanks to the use of a telescopic actuator (you do not have to move the whole machine). The weight of the head is compensated by a hydraulic cylinder.
All three rollers are driven, with the possibility of disconnecting the drive to the upper bending roll. Most profile bending machines in the market have OR 2 driven rollers OR 3 driven rollers, however with our Profi Bend, you have both options in 1 machine.
Delivered with a standard set of rollers to bend many different profiles and flat bars. We can also deliver additional roller sets for bending various pipe sizes and square tubes.
All Profi Bend machines are equipped with channels for forklift forks, which allows you to transport the machine trouble-free all around the workplace.
The adjustment of the position of the upper roll is very easy, the configuration depends on the model you choose.
Contact us!
In need of a Profile Bending Machine? Let us know or ask for a quotation via our website!
Contact us directly for more information:
📞 0031 486 463033
📩 [email protected]