In the end of 2017 a company, that is the leading manufacturer of tooling systems for press brake manufacturers and users, reached out to us. They were looking for a hydraulic straightening press and as you would probably know, RHTC is the perfect supplier for these presses. After some conversations with the senior purchaser of this company, we knew exactly what their requirements were. We started to design the press on paper immediately and handed out the offer within a couple of days. Eight weeks later (in the beginning of 2018) the tailor-made press was delivered to one of their Dutch locations. And it turned out, they liked it very much.
Tailor-made press
The press that we delivered is a 60 ton workshop press with a protection fence built around it. The frontal working area of the press is still accessible, the fence can be opened vertically by means of pneumatic cylinders. If the operator opens the fence, the hydraulic press only works with a very low hydraulic pressure, so there is sufficient pressure for clamping, but not for pressing itself. The hydraulic press is also provided with a digital read-out of the cylinder stroke. Fully custom-made to the requirements of the customer.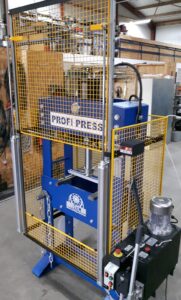 Two years later
A couple of months ago, we were contacted by the Chinese department of this company. The operators from the Dutch location were very happy with the press and recommended it to their Chinese location as well. The requirements were exactly the same, so it made the procedure very easy. The only thing that needed to be different was the packaging: it now needed to be packed in a sea-worthy wooden crate. No sooner said than done: the tailor-made 60 ton press is produced again, packed in a wooden crate and it will now go on its way, with the Marie Maersk, to China!
Contact us
Would you like to know more about our tailor-made presses? We invite you to have a look at the product page of our tailor-made presses at our website. You can ask us to contact you with some more information on this page immediately. We are always happy to help!