Every once in a while we would like to highlight one of our hydraulic presses, punching machines or profile bending machines. Just because they deserve to be in the spotlight! In the blog of this week we will highlight one of our Profi Bend best-sellers: the profile bending machine with hydraulic adjustment of the top roll, the PB 50-3H!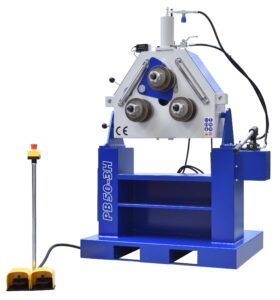 A little background information:
The Profi Bend PB 50-3H is a profile bending machine with a shaft diameter of 50 mm. With the Profi Bend you can bend a huge variety of different profiles. And in almost any desired radius. The profile bender consists of two lower guide rolls and one top roll whose working position can be adjusted by means of the hand pump / hydraulic system. Thanks to this hydraulic system you can set and adjust the position of the top roll very precisely.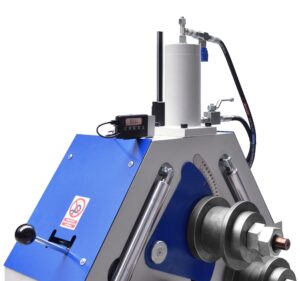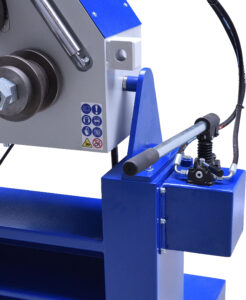 Our Profi Bend profile bending machines have 2 working positions: a vertical position and a horizontal position. It is very easy to switch between these two positions. The 3 rolls are driven by a motor. It is possible to disconnect the upper bending roll from the drive, so you can work with 2 or with 3 driven rolls. The turning directions of the rolls is controlled by the foot pedal of this roll bender.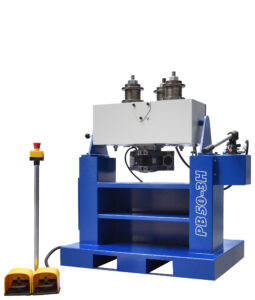 The profile bending machines can be delivered with several options to make your bending operations easier. For example some roller sets in steel or plastic (from ¼ inch to 2 inch), a spiral bending device , distance rollers or a yoke. Contact us for the possibilities!
Our Profi Bend profile bending machines are made in Europe and the quality is very high. The PB50-3 H is directly available from stock. So delivery within Europe is possible within a week!
Contact us!
If you would like to come over to our warehouse to see this profile bending machine at work, give us a call, you are always welcome! If you are not able to come over, we have this video from which you can tell that it is very easy to work with this Profi Bend.
You can have a look at the product page of this PB50-3H and ask us for a free quotation there. However, you can also send us an e-mail straight away and ask for some details. We look forward to your message!