Every once in a while we would like to highlight one of our hydraulic presses, punching machines or profile bending machines. Just because they deserve to be in the spotlight! In the blog of this week we will highlight one of our C-frame presses.
The PPCM-80: a 80 ton C-frame press, which was directly available from our stock until a few days ago. One of our Profi Press dealers sold it, so it will be shipped to Germany soon. But do not worry, the production of a new C-frame press can start at any time.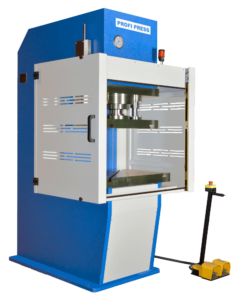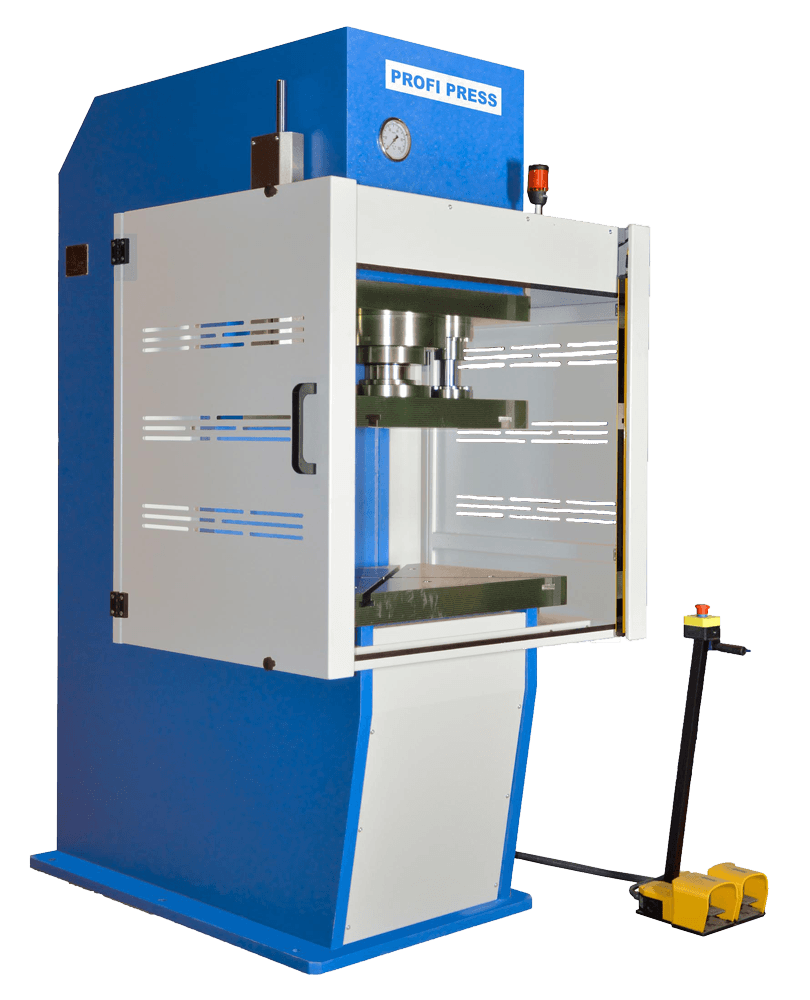 A little background information
The Profi Press PPCM-80 is a hydraulic C-frame press with a capacity of 80 ton. It has an upper- and lower table with T-grooves to easily install a mould or tool within the pressing area. The tables are made out of C45E steel and the T-grooves are DIN650 (but can be made to your specific requirement as well). The upper table ensures perfect alignment by means of the two cylindrical lateral guides (ø 50 mm) with maintenance free anti-friction bimetallic caps.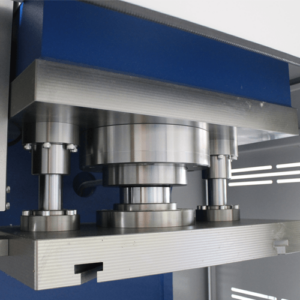 These C-frame presses are made in Europe and the quality is very high. Below we point out some of the good features that our 80 ton Profi Press C-frame press has:
Designed to perform work involving deep-drawing, stamping and forming. Furthermore there is also a possibility of incorporating this hydraulic press in automated production lines
Easy adjustable cylinder stroke with limit switches
3 different work modes: manual, semi-automatic or automatic
2 speed motorised hydraulic unit with automatic deactivation of the high speed
Pressure switch for regulating the pressure signal for each kind of pressing
Made in Europe with solely high quality components such as Hytos, Cassappa, LG
Compliant with all the essential and relevant health and safety requirements in application of the European Directive 2006/42/EC Machine Security (and subsequent amendments).
Contact us!
Our C-frame presses can be delivered with several optional accessories. For deep-drawing we can build the machine with an hydraulic cushion for example. Or if you want to set and adjust the piston stroke and pressure digitally, let us add a Siemens NC-control for you. The possibilities for our Profi Presses are huge, you just have to inform us about your requirements and we will figure out the rest.
Next to the PPCM-80, this C-frame press model is standard available in 50, 100 and 150 ton as well. And next to the PPCM-model, we have PPCD- and PPCF-models in our product portfolio. We invite you to have a look at the product page of our C-frame presses at our website. You can ask us for a free quotation via the product page or send us an e-mail for some more information. We are always happy to help!