Last week RHTC had the pleasure to deliver a custom-made hydraulic press with 300 tons capacity to Techno West Services B.V. in the Netherlands. This hydraulic press has a working width of 2.000 mm and a working height / vertical light of 1.030 mm! These dimensions are necessary for the job that Techno West is going to perform with the machine. Our standard 300 ton workshop press is a bit smaller, so that is why we decided to manufacture a custom-made press. Producing a press that fulfils all requirements of the customer is our priority. So after their go-ahead for the drawings, we started the production.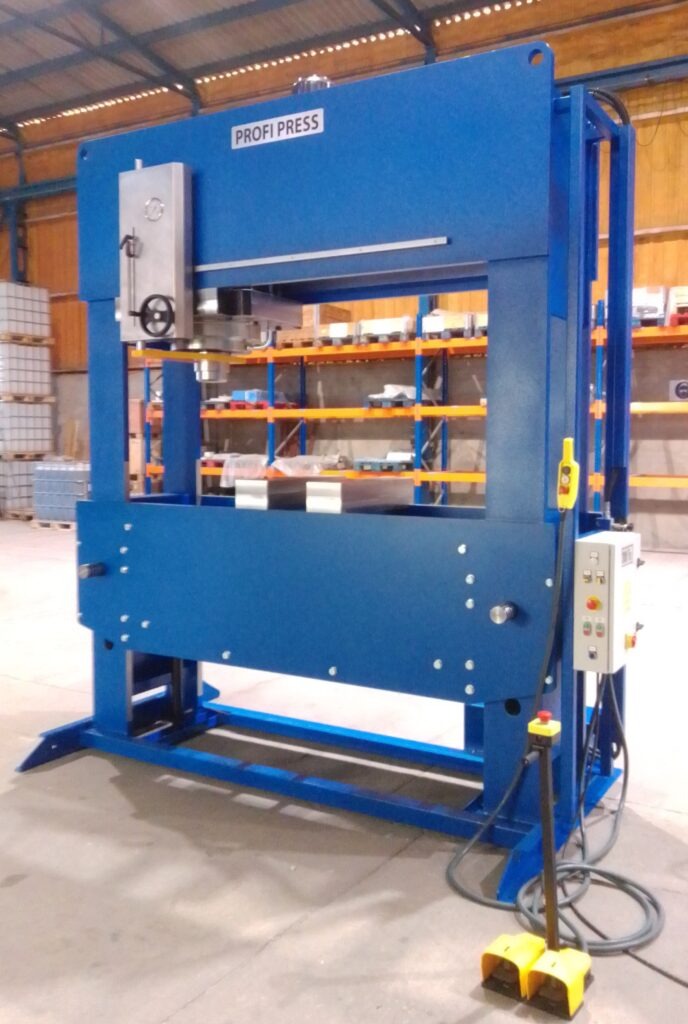 Techno West Services is a company situated in the South West of the Netherlands. They sell, rent, maintain and repair forklifts, towing tractors, telehandlers and more. And they only supply well-known and reliable brands, such as Linde, Terberg and Manitou. Our Profi Press hydraulic press with 300 tons capacity will be used for straightening the forks of forklifts for example.
Easy to use
After our meeting with them, we concluded that ease of use was one of the requirements for their press. That is the reason why this hydraulic press with 300 tons capacity has a hydraulically movable table (up and down) and a manually movable cylinder (left-right). Furthermore, the cylinder stroke is easy to adjust with the limit switches. Thanks to this design, many different fork sizes can be straightened very easily. The machine works with 1 or 2 cylinder speeds and has a manual or semi-automatic work mode. Soon, we will meet again with Techno West to make sure that they are 100% satisfied, but we heard positive words from them already.
Contact us
Are you looking for a hydraulic press that fulfils all your requirements as well? Give us a call or contact us via our website. We are available 24/7 to discuss all the different possibilities we can offer for a suitable machine for your needs.