Our tripod jack tester is designed to check the pressure forces of tripod jacks. Exclusively made in the Netherlands. You can test all kinds of tripod jacks with these test units.
This Profi Press test unit is equipped with a loadcell in the movable head. This head can be easily adjusted in height by means of a winch. And you can move the loadcell from left to right as well. Thanks to this design, various sizes of tripod jacks can be tested.
The load cell measures the force generated by the jack. The display on the side of the test unit shows the measured force in tonnes. By conducting these kinds of tests, you can also check if the valves and seals in the tripod jacks are still functioning for example.
Suitable for many branches and industries. These tripod jack tester presses are used for aircraft maintenance, but they can be used in any industry that needs to test and measure load capacity.
5 Tripod Jack Tester Units for the Dutch Ministry of Defence
In the summer of 2019 the Royal Netherlands Air Force contacted us to design a testunit for their tripod jacks. After a couple of meetings and technical reviews, we agreed on a design that works perfect for them. The 5 tripod jack tester units are now installed and being used at the air bases in Eindhoven, Woensdrecht, Gilze-Rijen, Volkel and Leeuwarden.
Our design of this jack tester is registered in the NATO database now and RHTC has an NCAGE number as well. Thanks to these registration numbers other Defence departments (also in other NATO countries) can easily engage with us for their press / test-unit requirements.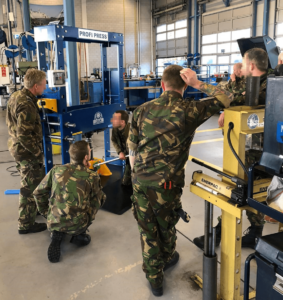 Are you interested in more information about these jack tester units? Whether it is for testing tripod jacks in the aircraft or automotive industry or for any other load testing job? We have experience in designing custom-made test units and are happy to provide you with more information. Give us a call or send us an e-mail, we will be in touch soon!
Metaalnieuws wrote a Dutch article about this fascinating project on their website, if you are interested to read it, please find it here.
Let's Get Started
' PRESS TO IMPRESS '