Our SMC hydraulic presses are designed with isolation between the pressing plates and high speeds for great performances.
Production of composite materials
These SMC hydraulic presses have an upper- and lower table (including T-grooves) and isolation between the plates is standard included. This type of Profi Press is mainly used in the production of composite materials, rubber and many other components that require, for example, heat in their production. These hydraulic presses can be produced with hot- or cold plates, depending on the mould preference of the customer. This sheet moulding compound process is widely-used in many different industries in which we supply our Profi Press.
Features of these SMC presses with optional heated plates
These presses are equipped with large tables with T-shaped grooves to fasten a matrix. Thanks to the high speeds, you can easily carry out your production process quickly. Furthermore, they are provided with a digital control panel to set the pressure force, cylinder stroke, dwell time and speeds. The software of the press is written according to the requirements of the customer. The operation is carried out by two-hands push buttons. Safety is guaranteed by photo-electrical sensors situated at the front of the press and to prevent overheating, a oil-cooling system is installed.
Please contact us when you would like to receive a quotation for one of our standard or custom-made presses! These RHTC hydraulic presses are available up to 3000 tons and can be equipped with many different features!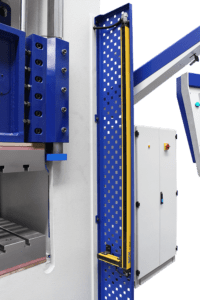 Let's Get Started
' PRESS TO IMPRESS '