Our C-frame Press with 80 Tons capacity, the PPCD-80, is suitable to perform work involving deep-drawing, forming and stamping.
Equipped with a lower table with T-grooves, an adjustable piston stroke (with end-stroke switches), two speeds and a pressure switch. This C-frame press (80 tons) has a manual and semi-automatic mode. Furthermore, you can operate the press by means of the two-hand push buttons.
All our C-frame presses are made in Europe and delivered according to the latest CE standards. High quality guaranteed!
Please do not hesitate to contact us when you have any questions about our Profi Press program. We also would like to invite you to visit our RHTC You-Tube Channel. Here you can see some videos of our hydraulic presses and other metal working machines we have in our assortment.
Technical specifications of this C-frame press
Force [tn]: 80
Motor power [kw]: 4
Throat depth [mm]: 290
Working speed [mm/sec]: 3.8
Approaching speed [mm/sec]: 19
Return speed [mm/sec]: 28
Maximum pressure [bar]: 320
Piston stroke [mm]: 250
Lower table size [mm]: 500 x 500
Max. vertical light [mm]: 400
Working height [mm]: 850
Total length [mm]: 1330
Total width (frontal) [mm]: 780
Height [mm]: 2090
Weight [kg]: 1750
Features
Made out of S355JR steel
Equipped with a mechanized lower table with T-grooves
The cylinder is mechanized at the end to adapt tools and moulds
The cylinder stroke is easy to adjust with the end-stroke switches
Manual / semi-automatic work mode
Two cylinder speeds
Pressure switch and manometer
Operation by two-hands push buttons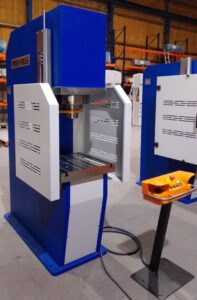 Optional accessories
Geometry adapted to your requirements (for example a larger table or larger piston stroke)
Hydraulic ejector
Punching tool-set for diameters from 6 up to 100 mm with anti-deformation elastic hold-down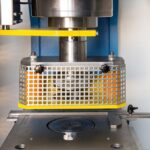 415 mm bendingtool-set (Promecam clamping system)
Cooling equipment for the hydraulic group by an air-oil cooling system
Mechanical regulation of the cylinder, only available for the PPCD-80 and PPCD-100
' PRESS TO IMPRESS '
Let's Keep in touch