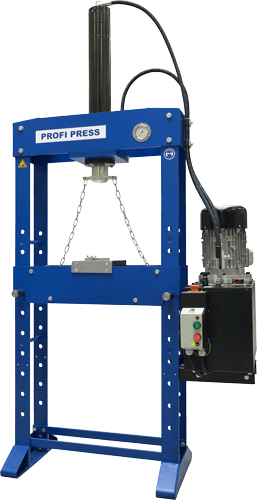 This 15 ton broaching press from Profi Press is exclusively made in the Netherlands.
The piston stroke is 600 mm and the hydraulic press includes a joystick for the vertical movement of the piston. This broaching press also incorporates a pressure control valve and a speed control valve.
Contact us for more information or ask for a free quotation via the button below!
Technical specifications
Pressure force [kN]: 147
Pressure max. [bar]: 232
Piston stroke [mm]: 600
Oil capacity [dm³]: 35
Oil delivery [ltr/min]: 11.8
Working speed [mm/sec]: 0-30
Approaching speed [mm/sec]: 0-30
Return speed [mm/sec]: 0-40
Motor power [kW]: 5.5
Voltage [V]: 400/3
Frequency [Hz]: 50/60
Revolutions per minute [rpm]: 1500
Insulation protection [IP]: 54
Weight [kg]: 305
Diameters
Inside diameter of cylinder [mm]: 90
Diameter of piston rod [mm]: 50
Diameter of piston head [mm]: 80
Features
Integrated pressure manometer
Pressure regulation
In height adjustable working table
Joystick for the control of the piston
Speed control valve
Optional accessories
V-block set for extra support
Collection tray between the feet of the press
Collection tray for the broach-tool
Material tray for the working table
Dimensions in mm
A: 2300
B: 820
C: 494
D: 650
E: 200
F: 1140
G: 100
H: 112
I: 900
J: 700
K: 110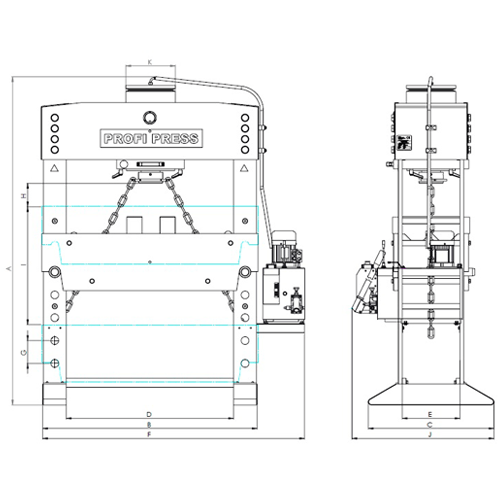 ' PRESS TO IMPRESS '
Let's Keep in touch