Next week this 300 ton four column press is ready for shipment. What a beauty! This 4 column press is made in Europe and designed to the requirements of the end-user, a company in the mechanics industry in France. They needed a 300 ton four column press with a hydraulic cushion and a NC-Siemens control, so that is what we are going to deliver!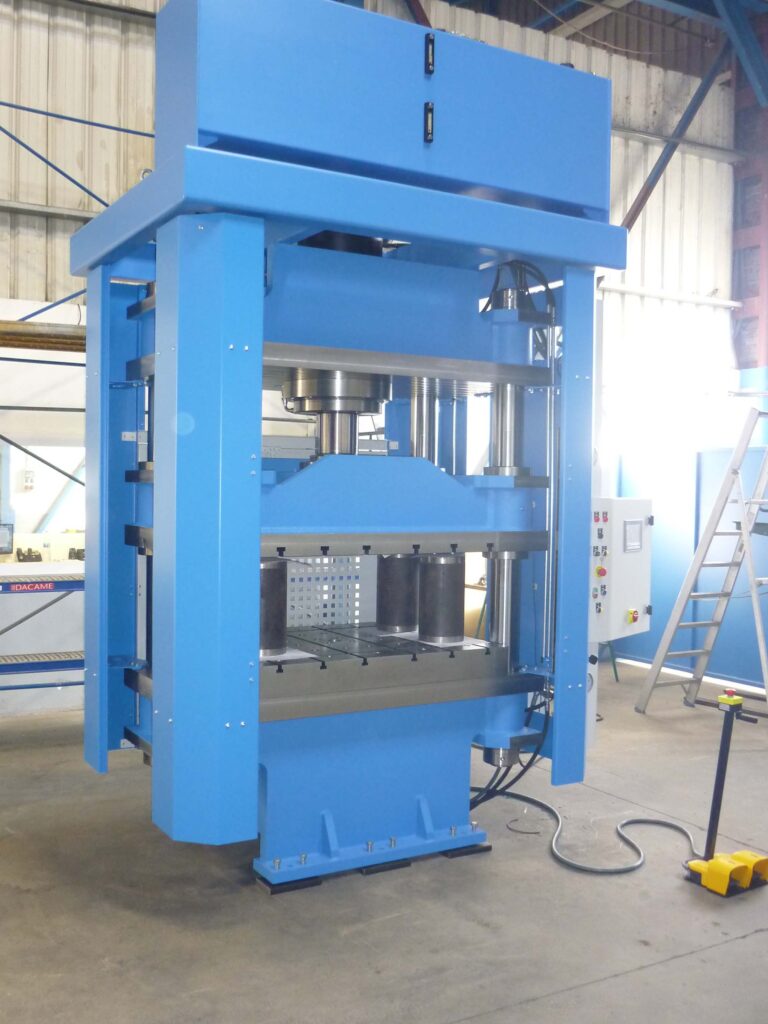 Often customers choose for a four column press when they require a perfect parallelism between the upper- and lower press tables. Also, out-of-centre pressings are not a problem for these high quality hydraulic presses with their big columns.
Characteristics of this four column press
This tailor-made 4 column press has a main upper cylinder of 300 ton and a 100 ton cushion power in the lower table. The main cylinder has a stroke of 500 mm and the hydraulic cushion has a stroke of  150 mm. Both cylinders have a manometer to read-out the tonnage. The tables have a size of 1290 x 1000 mm and the useful cushion surface is 800 x 560 mm.
With the Siemens NC-control, the customer can program some parameters digitally. For example, the upper- and lower position of both cylinder strokes as well as the pressing time (for the main cylinder) and the waiting time (for the lower cylinder). The operator can also set the pressing force for the main cylinder and the position where the cylinder has to make the change in speed. The pressure regulation for the cushion can be controller with a pressure regulation knob.
Naturally, the press fulfils all the essential and relevant health and safety requirements in application of the European Directive (2006/42/EC) for machinery security. So that is why the press will be provided with light guards in the frontal working area and protective covers on the sides and at the back of the machine. These are not visible at the pictures yet, since the press is not entirely completed.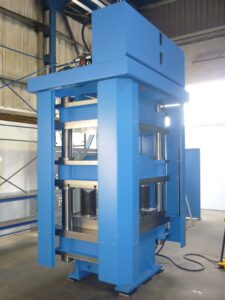 More information will follow!
Once the hydraulic press is finished, we will post some more pictures and videos. We look forward to share it with you!  Would you like to know more about this press? Contact us or our dealer who sold it, we are happy to inform you!