The Profi Press mechanical presses: suitable for performing stamping, cutting and deep-drawing work.
We produce these mechanical presses in Europe. Equipped with only high quality components and made out of S355JR steel. You can use these high-performance presses for a wide variety of applications in many different industries. Suitable for cost-effective production in the automotive, aerospace and railway industries and many other branches that use metal forming.
Our double column mechanical press program
The PPMVS-models, equipped with one connecting rod, 6-guided ram & a programmable control system (100 to 400 ton).
The PPMFS-models, equipped with two connecting rods, 6-guided ram & a programmable control system (300 to 630 ton).
The dimensions of the prismatic and sliding guides offer maximum rigidity, limiting deformation of the work surfaces to a minimum value. Furthermore, these eccentric presses are designed with a complex system of eccentric gears with opposite rotation. This system allows for a double reduction in speed and long strokes. To guarantee a perfect maintenance and operation, these high speed presses have a central motorized lubrication system and an overload protection. They are also equipped with an electropneumatic clutch-brake combination. 
We produce our high quality presses conform all the latest CE Machinery Directives and deliver them with a two-year warranty.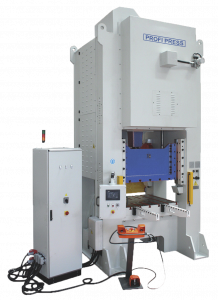 More information about these different models can be found below. You can click at each model and read about the technical details and machine features.
At our You-Tube Channel we show various videos of our product program, so feel free to have a look or contact us for more information!
Let's Get Started
' PRESS TO IMPRESS '