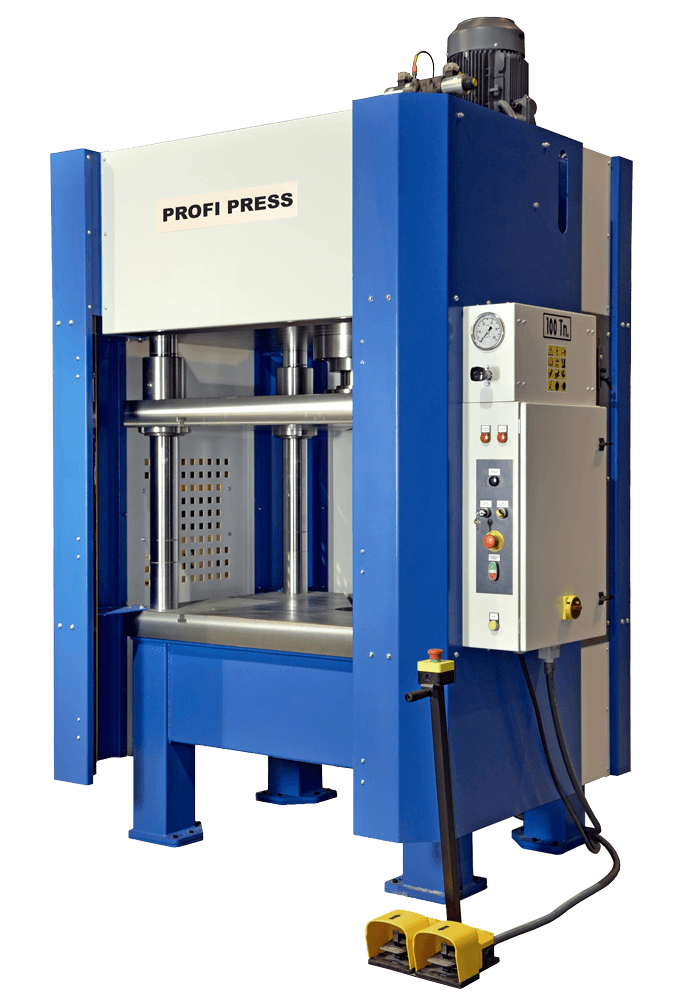 This 100 ton four column press is manufactured with 4 cylindrical columns to ensure a perfect parallelism of the upper table. We raden dit type hydraulische pers aan wanneer u werk heeft dat een hoge nauwkeurigheid vereist of voor speciale dieptrek-taken.
Profi Press vier kolompersen hebben een manuele, semi-automatische of automatische arbeidsmodus en de persen werken met 2 verschillende cilindersnelheden. De cilinderslag en de positie voor de snelheidswissel zijn eenvoudig in te stellen met limiet-schakelaars. Bovendien bevatten deze modellen een drukschakelaar, een manometer in ton en worden ze bediend middels een elektrisch voetpedaal.
Al onze hydraulische persen voldoen aan de CE-voorschriften en werken met een hydraulische druk lager dan 320 bar om een grote duurzaamheid te garanderen. Onze 100 ton vier koloms pers wordt in Europa gemaakt en wij garanderen een extreem hoge kwaliteit van deze pers.
Neem contact met ons op voor meer informatieof vraag een offerte aan via de onderstaande knop.
Technische specificaties
Force [tn]: 100
Motor power [kw]: 7.5
Working speed [mm/sec]: 6.2
Approaching speed [mm/sec]: 31
Return speed [mm/sec]: 48
Piston stroke [mm]: 450
Guides diameter [mm]: 100
Useful table size [mm]: 1050 x 950
Between columns [mm]: 1050 x 650
Vertical light [mm]: 650
Working height [mm]: 800
Total length (lateral) [mm]: 1430
Total width (frontal) [mm]: 1880
Overall height [mm]: 2780
Weight [mm]: 4300
Kenmerken
Rigide en robuust frame
Boven- en ondertafel met T-sleuven
Vier verchroomde en gerectificeerde cilindrische kolommen voor een perfecte parallelliteit
Verstelbare cilinderslag met eindslagschakelaars
Schakelaar voor manuele / semi-automatische / automatische werkmodus
Schakelaar voor het werken met 1 of 2 cilindersnelheden
Drukschakelaar en manometer
Optionele accessoires
Proportionele ventielen voor druk en stroming
PLC SIEMENS mod. SIMATIC S7 1200 met 7" touch screen mod. KTP-700
Een verschuifbare tafel aan de voorkant van de pers (om gemakkelijk materiaal in en uit de pers te schuiven)
Aanpassingen aan robotica
Hydraulische verbindingen voor perifere systemen
Hogere snelheden door voorvul-ventielen en hulpcilinders
Hydraulisch kussen of ejector
Koeling voor de hydraulische groep door een lucht-olie koelsysteem
Bovendien kan deze 100 ton vier koloms pers worden aangepast aan speciale vereisten zoals een grotere cilinderslag of grotere tafels bijvoorbeeld.
' PRESS TO IMPRESS '
Laten we contact houden