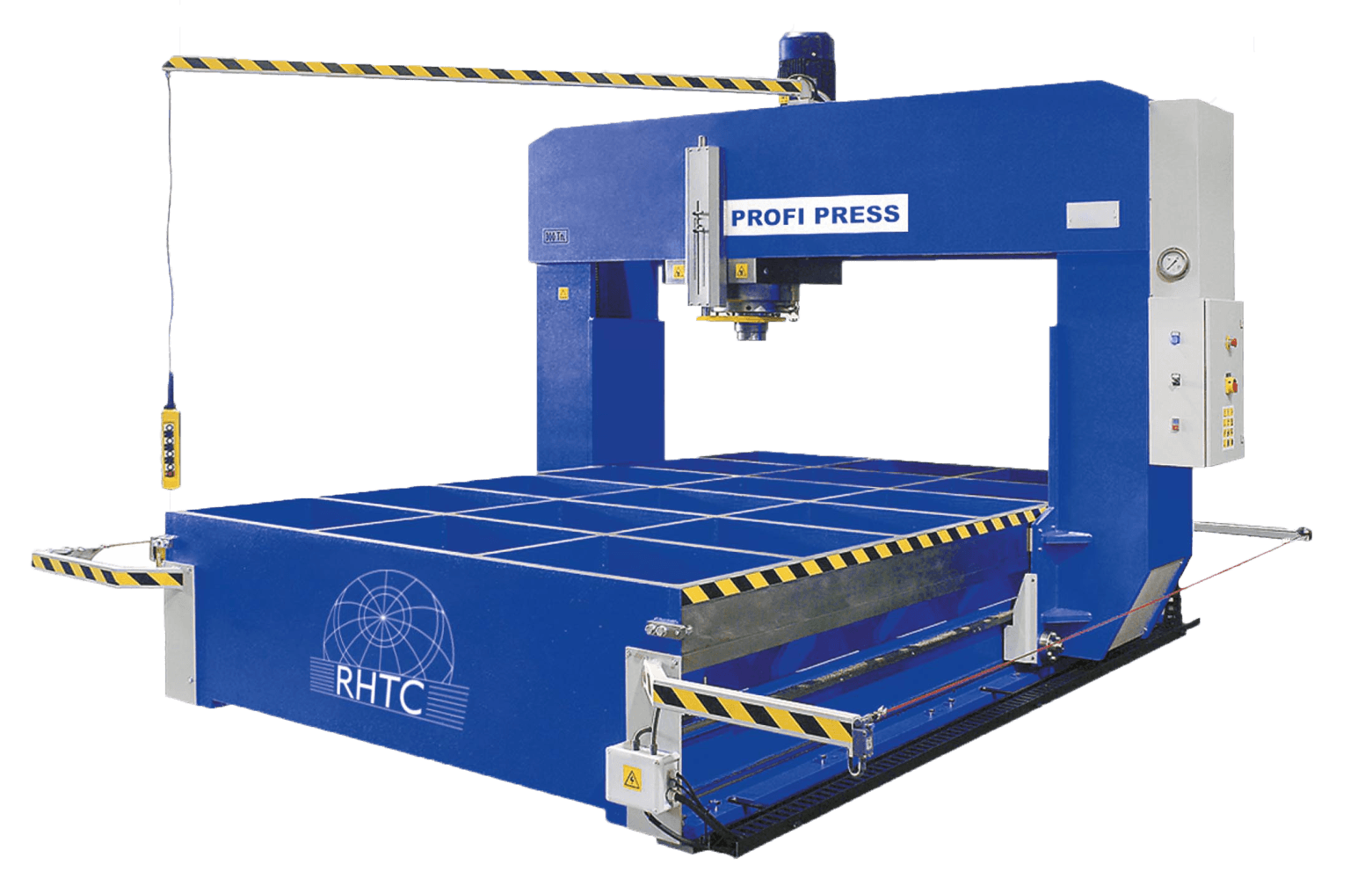 This 150 ton gantry press is eminently suitable for straightening large and heavy structures and sheets. These Profi Press portal presses have a movable frame and a movable cylinder. Thanks to these features you have an easy access the different pressing and straightening points of the material. The longitudinal displacement of the frame is carried out by a frequency inverter and cogged belt to ensure precise slides. The lateral movement of the cylinder / headstock is motorised.
The large, lower table (1.600 x 3.000 mm) facilitates the loading and unloading of large parts and sheets. Operation of this 150 ton gantry press is carried out by means of a pendant control station with an operation confirmation button and an emergency stop.
All our hydraulic portal presses meet and satisfy the essential health and safety requirements in accordance with the CE standards. Furthermore, we deliver our hydraulic presses with a warranty of two years. When you require different dimensions for these presses (for example a larger table), please inform us.
Technical specifications
Force [tn]: 150
Motor power [kw]: 4
Working speed [mm/sec]: 2
Approaching speed [mm/sec]: 9.9
Return speed [mm/sec]: 15.4
Maximum pressure [bar]: 320
Piston stroke [mm]: 450
Table size (L x W) [mm]: 3000 x 1600
Horizontal light [mm]: 1615
Vertical light [mm]: 700
Headstock displacement [mm]: 1050
Frame displacement [mm]: 2150
Working height [mm]: 600
Total length [mm]: 3250
Total width [mm]: 2500
Overall height [mm]: 2550
Weight [kg]: 7000
Features
Motorised movable portal
Motorised movable cylinder
Cylinder stroke is easy to regulate with the end-stroke switches
Selector for manual / semi-automatic operation
Pressure regulator and manometer
Optional accessories

Milling flat table (3000 x 1600 x 75 mm)
Small cylinders fitted in the lower table to lift pieces (each 2 ton power), connected to a second hydraulic group
Additional extension for the cylinder
Larger table size
 Dimensions in mm

A: 1615
B: 700
C: 1050
D: 2150
E: 600
F: 3250
G: 2500
H: 2550
' Попробуйте, чтобы почувствовать разницу с нашими Прессами»
Давайте будем на связи!