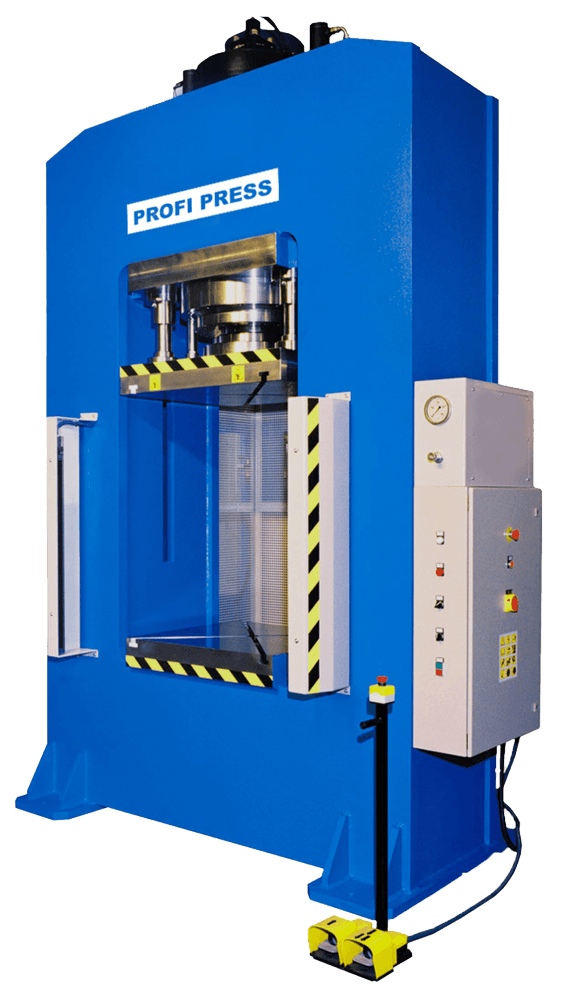 Our 150 ton production press is suitable for stamping, die-cutting, deep-drawing and forming. This hydraulic press can be incorporated in automated production lines as well.
We produce this robust production press in Europe. Delivered according to the latest CE-standards: high quality guaranteed!
Find out more about the technical details and features of this 150 ton production press by scrolling down!
Contact us for more information or ask us for a quotation via the button below.
Technical specifications
Pressure force [tn]: 150
Motor power [kW]: 7.5
Working speed [mm/sec]: 3.9
Approaching speed [mm/sec]: 20
Returning speed [mm/sec]: 30
Piston stroke [mm]: 250
Vertical light [mm]: 400
Frontal light [mm]: 850
Lower table size [mm]: 750 x 550
Upper table size [mm]: 650 x 500
Guides diameter [mm]: 50
Table- / working height [mm]: 950
Total length (lateral) [mm]: 1110
Total width (frontal) [mm]: 1750
Overall height [mm]: 2720
Weight [kg]: 3250
Features
Rigid and robust machine frame
Upper- and lower table with T-grooves
Four cylindrical lateral guides for a perfect alignment of the upper table
Adjustable piston stroke with end-stroke switches
Selector for manual / semi-automatic / automatic operation
Selector for working with 1 or 2 speeds
Pressure switch and manometer
Optional accessories
PLC SIEMENS mod. SIMATIC S7 1200 with 7" touch screen mod. KTP-700
High speed approach by prefilling valves and lateral cylinders
Hydraulic cushion
Hydraulic ejector placed in the upper- or lower table or in both tables
Cooling equipment for the hydraulic group by an air-oil cooling system
' PRESS TO IMPRESS '
Let's Keep in touch