C-Frame Mechanical Press (PPE-4-125)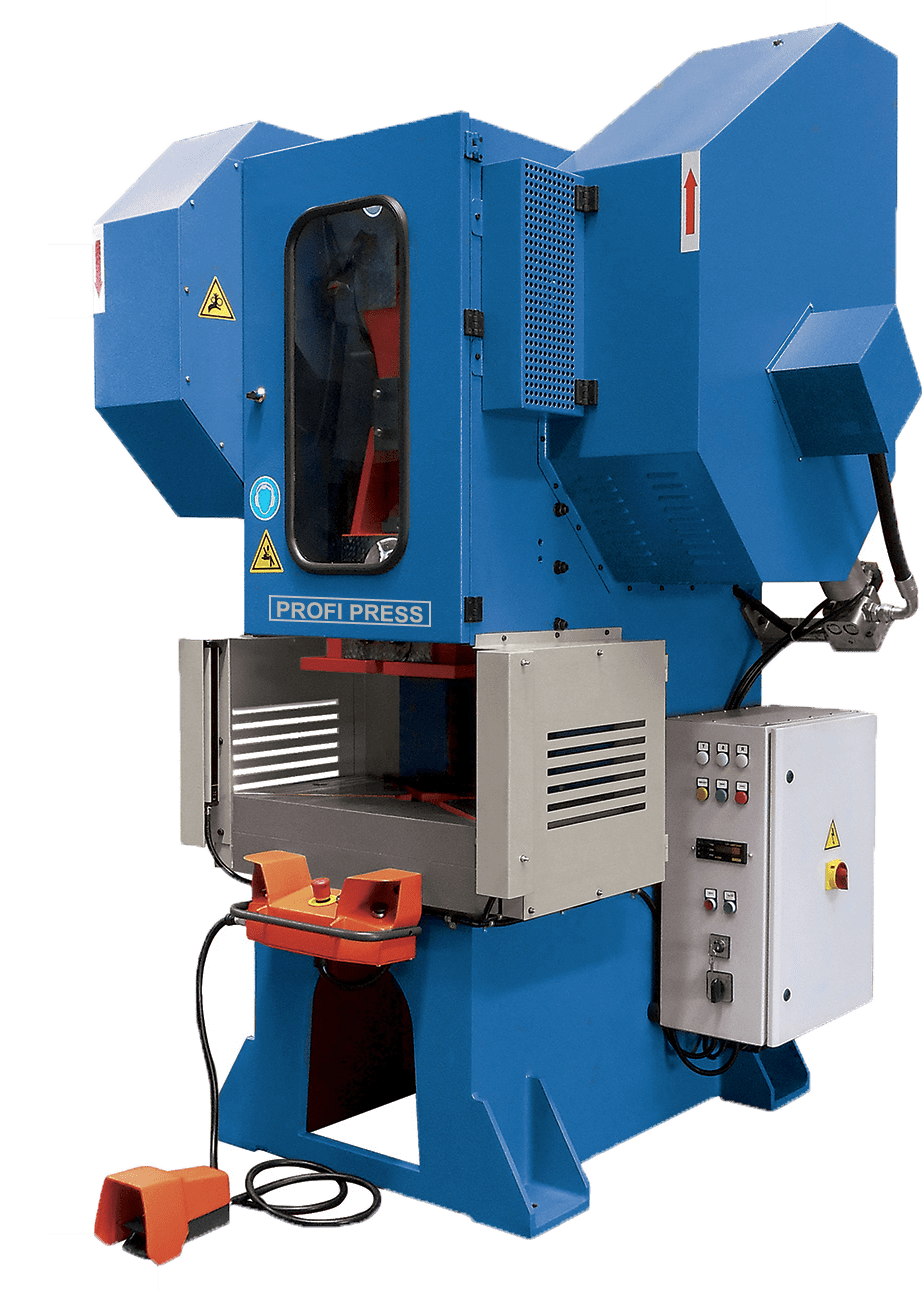 This C-frame Mechanical Press is suitable to carry out tasks involving deep-drawing, cutting, punching and stamping. Our Profi Press mechanical presses can be used for various applications in many different industries: the automotive, railway and aerospace industries (for example) and many more related industries that use metal forming.
Made of S355JR steel and equipped with a 4 guided ram. The rod is made out of high-strength forged steel and high-performance alloy bushings.  This high performance Profi Press features a central motorized lubrication system, overload protection and an electropneumatic clutch-brake combination.
RHTC produces the C-frame mechanical press in Europe and we deliver all these presses in accordance with the latest CE standards. High quality guaranteed!
Please do not hesitate to contact us when you have any questions about our Profi Press program. We also would like to invite you to visit our You-Tube Channel to see some videos of all the different metal working machines we have in our assortment.
Technical specifications
Pressure force [tn]: 125
Motor power [kw]: 11
Throat depth [mm]: 300
Strokes per minute [spm]: 50
Stroke adjustment [mm]: 10 – 135
Max. closed mould height [mm]: 315
Distance between table and ram [mm]: 450
Ram adjustment [mm]: 60
Table size [mm]: 600 x 900
Ram size [mm]: 315 x 550
Table height [mm]: 800
Ø hole in the table [mm]: 250
Ø hole in the ram [mm]: 50
Total width (frontal) [mm]: 1650
Total length [mm]: 1680
Overall height [mm]: 2870
Features of this C-frame Mechanical Press
Central motorized lubrication system to guarantee a perfect performance and maintenance
Hydraulic overload protection to protect the machine components and installed tools
Electro-pneumatic clutch and brake combination equipped with a dual safety solenoid valve. This system includes a compensation tank, a regulator-lubrication filter and a pressure control switch
Lateral protection screens with level IV safety light guards
Programmable control system (PLC)
Adjustable stroke
Anti-vibration pads
Operation by means of two-hands push-button control as well as a foot pedal
Optional accessories
Inverter (speed variation)
Pneumatic or hydraulic die ejector or cushion
Lower auxiliar table
Strain gauge system
NC digital display with memories to save various working cycles
' PRESS TO IMPRESS '
Let's keep in touch