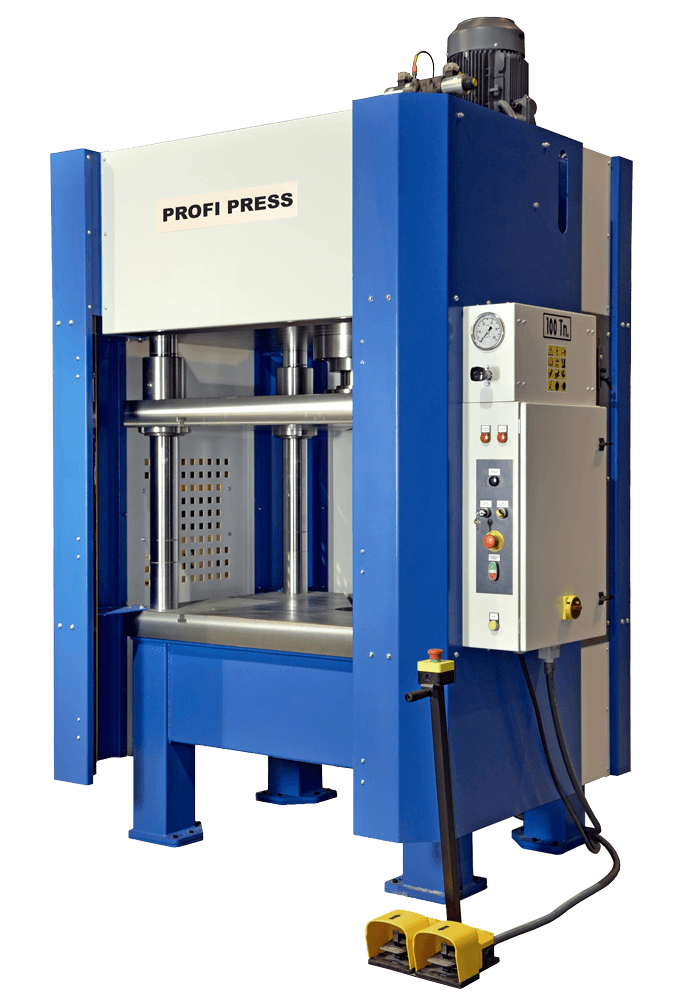 This four column press has a tonnage of 80 ton and is built with four chrome-plated cylindrical columns to ensure a perfect parallelism of the upper table.
These four column presses are equipped with a two-speed hydraulic unit with an automatic disconnection of the high speed and can be operated in a manual, semi-automatic and automatic mode. The presses include a pressure switch, a manometer in tons and are operated by an electric foot pedal.
All our hydraulic presses comply with CE-regulations and work with a hydraulic pressure lower than 320 bar to guarantee a greater durability of the presses. These four column presses are made in Europe and we guarantee a high quality of these machines.
Technical specifications
Force [tn]: 80
Motor power [kw]: 5.5
Working speed [mm/sec]: 6
Approaching speed [mm/sec]: 25
Return speed [mm/sec]: 36
Piston stroke [mm]: 450
Guides diameter [mm]: 80
Useful table size [mm]: 900 x 850
Between columns [mm]: 900 x 600
Vertical light [mm]: 600
Working height [mm]: 800
Total length (lateral) [mm]: 1330
Total width (frontal) [mm]: 1680
Total height [mm]: 2680
Weight [mm]: 3400
Features
Rigid and robust machine frame
Upper- and lower table with T-grooves
Four chromed and rectified cylinder columns for a perfect parallelism
Adjustable piston stroke with end-stroke switches
Selector for manual / semi-automatic / automatic mode
Selector for working with 1 or 2 speeds
Pressure switch and manometer
Optional accessories
Proportional valves of pressure and flow
PLC SIEMENS mod. SIMATIC S7 1200 with 7" touch screen mod. KTP-700
A frontal sliding lower table
Adaptations to robotics
Hydraulic connections for peripheral systems
High speed approach by prefilling valves and lateral cylinders
Hydraulic cushion
Hydraulic ejector placed in the upper- or lower table or in both tables
Cooling equipment for the hydraulic group by an air-oil cooling system
' PRESS TO IMPRESS '
Let's Keep in touch