Tailor-made four column press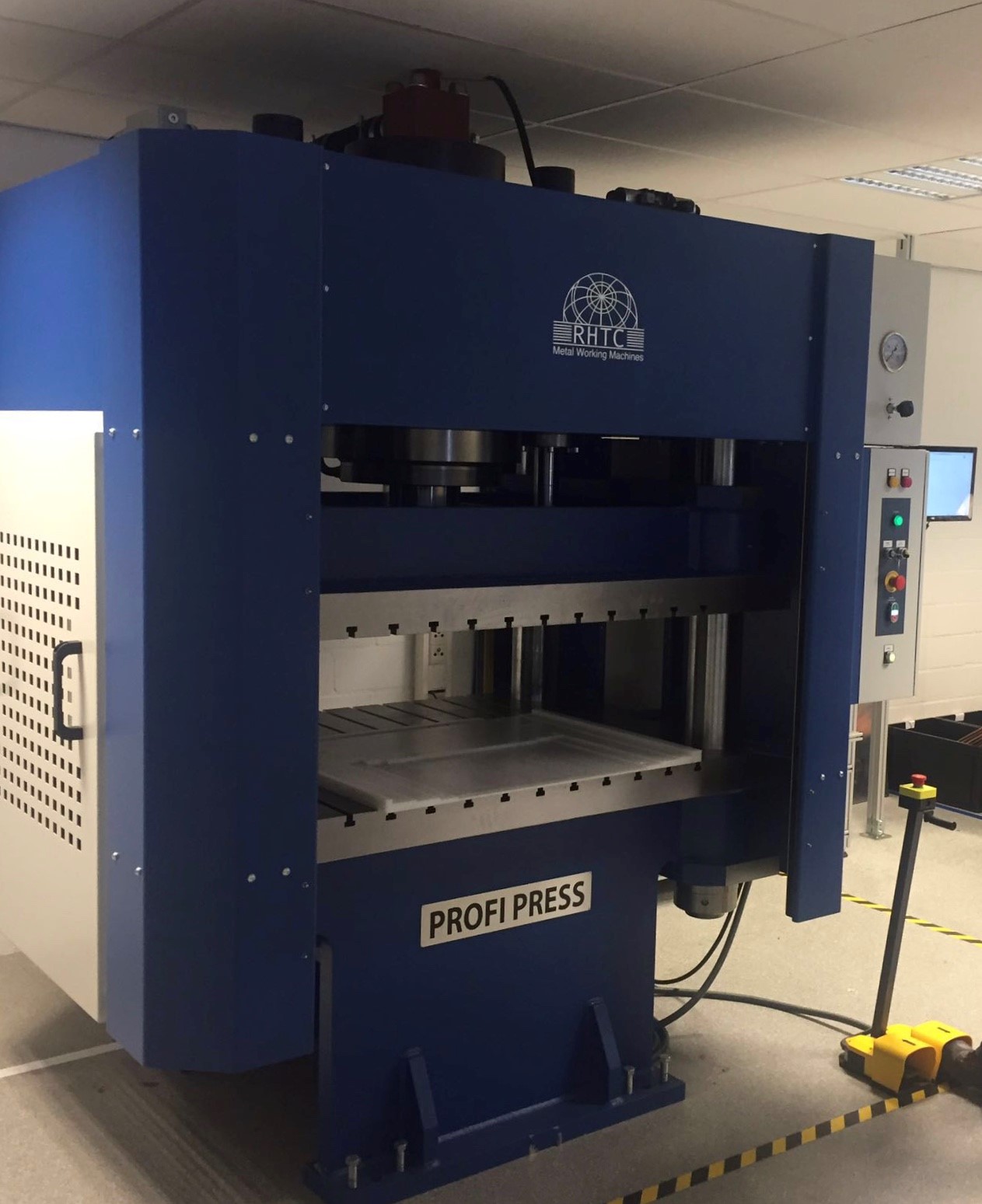 This 300 ton tailor-made four column press consist of a frame with four cylindrical columns and a mobile upper bed guided by these four columns. The lower- and upper beds are fitted with T-grooves and the guides of the upper mobile bed feature a double bronze case.
The hydraulic press features one main cylinder with a prefilled valve. There are two auxiliary cylinders on each side for a fast approach- and return speed.
With this tailor-made four column press the operator has the possibility to make an extern connection. The actions of the hydraulic press are then managed by an external signal connected to the PLC electric box.
Made in Europe and fully customized to the requirements of the customer. As you can see in the picture, the customer had a limited space available (especially the height was an issue), but for us, this was no problem at all!
Contact us if you would like to receive an offer for a tailor-made press as well, we look forward to discuss the possibilities together.
Technical specifications
Nominal force [tn]: 300
Maximum pressure [bar]: 320
Piston stroke [mm]: 470
Maximum vertical light [mm]: 480
Minimum vertical light [mm]: 10
Diameter of the columns [mm]: 150
Table dimensions [mm]: 1200 x 1100
Approaching speed [mm/sec]: 100
Working speed [mm/sec]: 8
Return speed [mm/sec]: 96
Features
Rigid structure with four cylindrical columns

Lower- and upper table with T-grooves to the requirements of the customer

One single-acting main cylinder

Two double-acting auxiliary cylinders for high speeds

NC Siemens S7 control with KP-400 display

External connection output RJ45 to connect with an external computer

Light guards in the front and in the back area of the press
' PRESS TO IMPRESS '
Let's Keep in touch