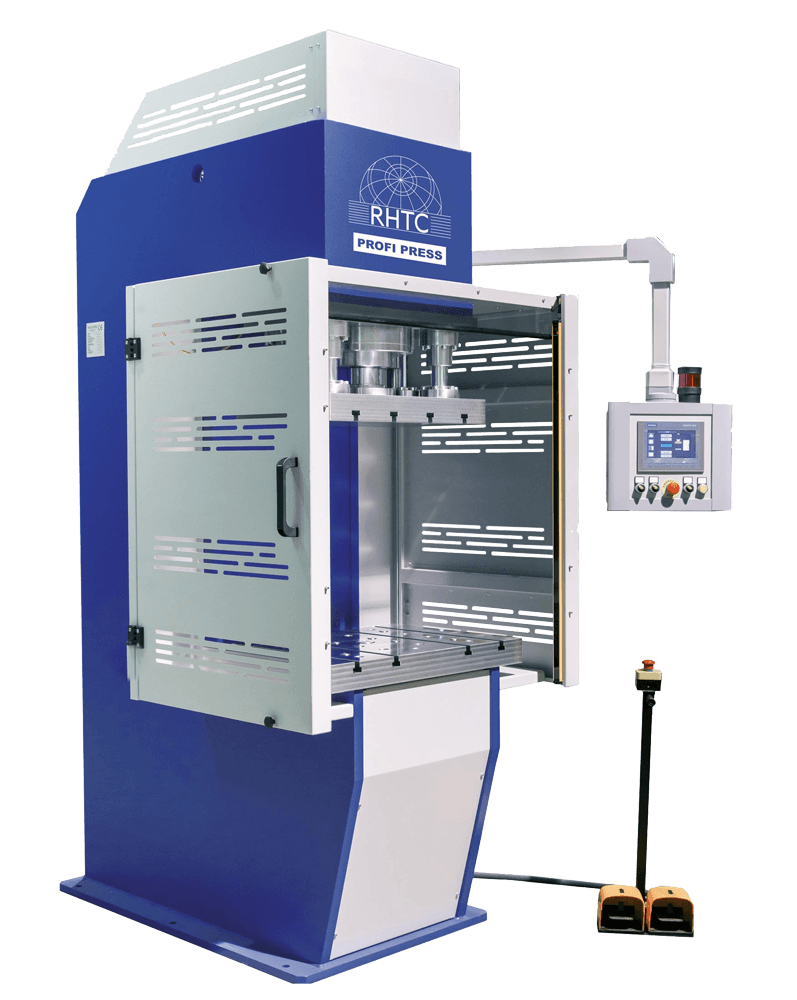 This 150 ton high speed C-frame press is designed to carry out tasks involving deep-drawing, stamping and forming in medium and high volumes. Also suitable to incorporate in automated production lines.
Designed with an upper- and lower table with T-grooves. The upper table ensures a perfect alignment by means of four cylindrical lateral guides (∅ 50 mm). Equipped with a main cylinder and two lateral cylinders to achieve the high speeds. The hydraulic unit is standard provided with an air-oil cooling system.
We produce this 150 ton hydraulic C-frame press with a control panel featuring a Siemens PLC with touch screen. This control system permits programming the power, the cylinder stroke and pressure-time. It has a storage capacity to save up to 300 different working cycles.
All our C-frame presses are made in Europe and delivered according to the latest CE standards. High quality guaranteed!
Technical specifications
Force [tn]: 150
Motor power [kw]: 7.5
Throat depth [mm]: 400
Working speed [mm/sec]: 5.1
Approaching speed [mm/sec]: 69
Return speed [mm/sec]: 101
Maximum pressure [bar]: 290
Piston stroke [mm]: 450
Guides diameter [mm]: 50
Lower table size [mm]: 900 x 650
Upper table size [mm]: 750 x 500
Max. vertical light [mm]: 650
Working height [mm]: 950
Total length [mm]: 2135
Total width (frontal) [mm]: 1360
Overall height [mm]: 2910
Weight [kg]: 4100
Features
Equipped with an upper- and lower table with T-grooves (DIN-650); tools can be easily fastened onto the tables
Perfect alignment thanks to four lateral guides for the upper table
One main cylinder and two lateral cylinders for high speeds
Two lateral protection screens (which can be opened) with level IV safety light guards at the front
Siemens PLC control panel to program the power, cylinder stroke & pressure time, to select the work mode & cylinder speeds and with a capacity to save up to 300 working cycles.
Operation by means of a foot pedal
Optional accessories
Geometry adapted to your requirements (for example larger tables or a larger piston stroke for this 150 ton hydraulic C-frame press)
Hydraulic ejector
Hydraulic cushion
Adaptations to robotics
Hydraulic connections to peripheral systems
' PRESS TO IMPRESS '
Let's Keep in touch